The Best Pod Vapes 2020 - Top compact, stylish, closed system Pod Mods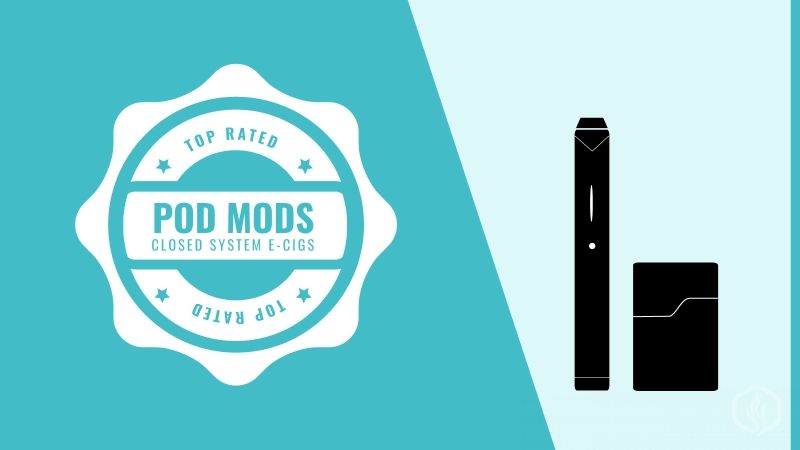 Ecigguide brings you our best pod mods, closed system vapes list and cig-a-like e-cigs list. Pod e-cigarettes are relatively new on the e-cigarette market but they are becoming increasingly popular. They are not built for clouds but they do a terrific job at delivering nicotine.
Our list is based on the top performing pod vapes we recently tested. And stay assured, we will always update our favorites as soon as new products are released.
Disclosure: The pod mods featured on this page were tested by our trained team of reviewers. We use affiliate links to these products as part of the review. This means that we receive a small commission whenever you make a purchase using one of our links. However, this will never influence our opinions and ratings we give to these devices. It also doesn't affect the price you pay for any particular vape. The commissions we earn are used to keep the site up and running. This way we will always be unbiased and honest when it comes to our recommendations.
Ecigguide.com is not intended to be accessed or used by individuals under eighteen years of age. If you are under eighteen (18) years of age please leave this website immediately. We also do not provide medical advice, and all the content is for general information purposes only.
Last updated: December 2019
Best performing Pod vapes & closed system e-cigarettes
To get a better understanding what pod vape or e-cigarette fits your needs. We made this handy table. Are you a beginning vape or do you have experience vaping pod vapes? Are you looking for a refillable e-cig or a pod vape that comes with cartridges? To make life easier check out this table.
Low output vaporizers, cartridge vapes and e-cig starter kits are excellent for beginners as well as intermediate or advanced vapers looking for a backup device. These usually have high nicotine pods, they are stealthy and ultra-portable.
They might look similar to regular vape pens, but these podmods have their own set of characteristics. When making this toplist we looked at pros and cons of each cartridge style vape.
We recommend to check out the whole list before deciding on a particular pod vape.
The recommendations we make are based on product performance, nicotine satisfaction, and through testing. We always corroborate this with feedback we get from our readers and staff. That's why you will always find only the best performing pod vaporizers on our list.
Best Pod Mods with non-refillable pods
Pod vapes with non-refillable cartridges are the easiest to use. These are also the most popular since they offer a very nicotine satisfying experience. Ultra portable and great for beginners there are our top picks for this category:
Apollo Brez vape
Having that slim modern design the, Apollo Brez vape is our favorite non-refillable pod system. It combines constant voltage output with five delicious flavors for one of the best e-smoking experiences out there. You can get the pods in either 25% or 50% nicotine salts and this makes them very useful for people who want to cut down. The 320mAh battery offers great autonomy and the 1.0ml pods ensure they won't run out in the middle of your day.
The patented ceramic coils give really good flavor and vapor and the build quality on this tiny vape is top notch.
| What we liked | What we didn't like |
| --- | --- |
| 5 absolutely delicious flavors | Propriety charger |
| Two nicotine levels to choose from | No temperature control |
| 1.0ml pods | No new innovations |
Verdict:A very well placed competitor for the JUUL, the Apollo Brez vape is our number #1 choice for best pod mod. This device features constant voltage output for a consistent draw every time and the flavors are just amazing.

Phix E-cig
Very similar the the JUUL, PHIX ecig combines a sleek ultra-portable design with some of the best pod flavors out there. Battery life is better, the pods are bigger and nicotine is also 5%. The connectors between the pods and mod are magnetic and so is the charger.
The patented ceramic coils give really good flavor and vapor and the build quality on this tiny vape is top notch.
| What we liked | What we didn't like |
| --- | --- |
| Great choice of flavors | Propriety charger |
| High nicotine concentration | Only one nicotine strength |
| 1.5ml pods | No battery indicator |
Verdict:Also known as the "JUUL killer" the PHIX ecig is our choice for number #2. Easy to use, reliable and great for delivering that much craved nicotine buzz, this is more affordable and a pleasure to use.

Space Jam Byrd
If you're looking for the most delicious e-juices in pre-filled pods then the Space Jam Byrd is definitely a product worth checking out. It is built from solid aluminum and the 350mah battery is more than enough to last a whole day of moderate vaping. The choice of flavors is really good and nicotine strength is really high.
| What we liked | What we didn't like |
| --- | --- |
| Very good flavors | Some pods leak |
| Good battery life | Only one nicotine strength |
| 60mg nic salts | |
Verdict:The Byrd from Space Jam is an excellent closed system pod vape. It combines amazing flavors with great battery life and an anodized aluminum body.
Best Refillable Pod Mods
Refillable pod vapes are the cheapest on the long term and they are designed for nicotine salts e-liquids. These devices come with cartridges that can be refilled up to 10 times and they offer amazing flavor and vapor production.
VooPoo DRAG Nano
The VooPoo DRAG Nano is our #1 ranking device in this section. It not only looks good but it also vapes perfectly. The Nano offers one of the best mouth to lung experiences and the pod can be refilled multiple times. The pod mod packs built-in 750mAh battery, which paired with the 1.8 Ohm coils ensure stellar autonomy.
Also its constant voltage output ensures the same quality and quantity of vapor with every single puff.
| What we liked | What we didn't like |
| --- | --- |
| Refillable pods | Only comes with one pod |
| Constant voltage output | No Pass-through vaping |
| Stellar battery life | |
Verdict: The VooPoo DRAG Nano refillable pod system is our recommendation as best refillable pod vape. It's very easy to use, the design is amazing and it rocks in terms of battery life and flavor.
SMOK Infinix
The SMOK Infinix pod mod is our favorite device in this category. It's very similar to a JUUL, but it's refillable and cheaper on the long term. The build quality is quite impressive for a device this small. It excels in terms of vapor production and flavor and it's fully compatible with nicotine salts.
Battery life is pretty reasonable and the tight draw makes it ideal for mouth to lung inhales. Each pod can be refilled up to 10 times and that's a big pro in our books.
| What we liked | What we didn't like |
| --- | --- |
| Refillable pods | Only comes with one pod |
| Great vapor quality | |
| Top of the line performance | |
Verdict: The SMOK Infinix refillable pod system is one of the best we tried. Battery life is great, vapor production is quite impressive and the flavor is off the charts. We only recommend using this tiny vape with nicotine salts juices.
Suorin Drop
The Suorin Drop has been one of our favorite pod mods since the day it was launched. This pocketable vape offers one of the smoothest and most impressive nic salt experiences. It's powered by a generous 300mAh internal battery and works with refillable 2.0ml pods.
The device is activated on draw and delivers great flavor and vapor quality.
| What we liked | What we didn't like |
| --- | --- |
| Refillable pods | Inconsistent wicking |
| Ultra-portable | |
| Solid performance | |
Verdict: The Suorin Drop comes in a variety of lovely colors and offers good vapor and flavor. Battery life is more than decent and it uses a standard micro-USB connector. Each pod can be refilled up to 8-9 times.
Smoant S8
With its regulated output, the Smoant S8 offers a very consistent experience. Vapor production and flavor are the same regardless off the battery charge. The pods are easy to refill and they have a capacity of 2.0ml. In addition the build quality and finish are top of the line.
The sleek pod mod features a 370mAh battery and two LEDs will let you know when it's time to recharge.
| What we liked | What we didn't like |
| --- | --- |
| Refillable pods | Only comes with one pod. |
| Regulated output | LEDs are hard to see |
| Consistent output | Fingerprint magnet |
Verdict: The Smoant S8 is a pod vaporizer with regulated output. The LED notification light is a nice added touch and overall vapor quality is just perfect.
Suorin Air
With its refillable 2ml pod the Sourin Air lets you experiment an endless choice of flavors. This credit card shaped vape mod is sleek, ultra portable and a pleasure to use. The draw is perfect and it's really simple to use. It takes some time to get used to but it's the ideal starting point to enjoy all those lip biting nic salts flavors.
This rectangular vape uses standard micro-USB slot to recharge the battery and the whole process takes less than 45 minutes. Pod refills are a piece of cake if you have a dropper or a unicorn bottle and we recommend sticking with max 70% VG.
| What we liked | What we didn't like |
| --- | --- |
| Refillable pods | Weird way of inhaling through the corner |
| Great overall performance | Coils don't last that long |
| | Sometimes the device doesn't fire |
Verdict: The Sourin Air pod mod lets you experiment with a wide range of nicotine salts e-liquids. It takes some time to get use to and has some minor issues in day to day use but the draw is perfect and the overall vape experience rocks. It's also one of the cheapest devices in this category.
Innokin EQ
The Innokin EQ is one of the most powerful pod mods we tested. It's the first device to use mesh coils on such a small vape and vapor production and flavor are stellar. The pods last for a very long time and the build quality on this bad boy is amazing.
| What we liked | What we didn't like |
| --- | --- |
| Refillable pods | Only one pod with the kit |
| Mesh coil design | Can't see the e-liquid |
| 800mAh battery | |
Verdict: The Innokin EQ is revolutionary pod vape that uses mesh coils for a great overall flavor experience. The build quality is top notch and the 800mAh battery is more than enough for full day use.
Smoant Karat
The Smoant Karat uses revolutionary quartz coil design for pure and excellent flavor. It boasts really good build quality and packs a strong battery inside. The device is shaped like a diamond and the pods have a long lifespan. It's the ideal companion for 50/50 nicotine salts juices.
| What we liked | What we didn't like |
| --- | --- |
| Innovative quartz coils | No resistance when sliding in the pod |
| Stellar build quality | Quartz coils are pretty new technology |
| 800mAh battery | |
Verdict: The Smoant Karat is a revolutionary pod vaporizer in terms of construction and design. It's the first to use quartz coils and the flavor you get from it is fantastic. We're not sure how they are going to behave on the long term, but so far the experience is amazing.
Best Low Output Vaporizers
If pod systems just won't cut it for you, then low output vaporizers are the next best thing. This devices have built-in e-liquid reservoirs and work perfectly with nicotine salts. They have bigger batteries, and sometimes even adjustable airflow and temp control.
Aspire Breeze
The Aspire Breeze is probably the most powerful device you will see listed on our best page. Powered by a 650mAh battery this device comes with two coils, one of which is sub ohm. It holds 2.0 ml of e-liquid and it's a great mod to enjoy nicotine salts with. Vapor production is outstanding and flavor wise you can't go wrong.
This vaporizer has a built in tank which you can refill with juice. The process is simple once you get the hang of it. You can use up to 70% VG and having a power button makes things a lot easier.
| What we liked | What we didn't like |
| --- | --- |
| Refillable reservoir | Much bigger than the competition |
| Great battery life | |
| Great vapor | |
Verdict: The Aspire Breeze AIO vaporizer is powerful and well built. Vapor production is outstanding and the 0.6 Ohm coils give a very satisfying overall experience. It's easy to use and the battery lasts for a very long time. Read the full Aspire Breeze review here.
Vaporesso Nexus AIO
It's more of a tiny AIO mod than a pod system but nevertheless it's great for enjoying nicotine salts juices. The Vaporesso Nexus is chic looking personal vaporizer that features impressive build quality. The specially designed 1.0 Ohm coils allow for three different temperature control settings.
You can fit it inside virtually any pocket and refilling takes only a few minutes once you get the hang of it. Thanks to its impressive 650mAh battery, the device offers outstanding autonomy.
| What we liked | What we didn't like |
| --- | --- |
| Refillable reservoir | Gets flooded with thinner juices |
| Temp control presets | |
| Airflow adjustment | |
Verdict: The Vaporesso Nexus AIO is a very portable all in one low output vape intended for nicotine salts. It's extremely affordable, easy to use and delivers great vapor and flavor. Should not be overfilled and tends to work best with 70/30 mixes.
Top-list Pod Vapes
To give you an oversight on the highest quality pod mods and low output vaporizers we made this small top list. The rating is based on average scores given by our team for these devices.
PHIX ecig - Best non refillable pod mod
Byrd vape – Best nic salts flavors
SMOK Infinix – Best refillable pod system
Suorin Drop – Best value for money refillable pod vaporizer
Aspire Breeze – Best low output vaporizer
Smoant Karat – Most innovative pod mod
Vaporesso Nexus – Best tiny AIO vape
About Pod Mods and Closed System Vaporizers
Closed system vaporizers explained
Closed system vaporizers are the types of e-cigarettes and mods that work with non-refillable cartridges. These can by pod mods, all in one devices or two piece cig-a-like starter kits . Once the e-liquid in the cartridge has run out, this has to be discarded and replaced with a new one.
Because these products are leak proof and easy to use they are often preferred by beginners. They don't require any set of skills and they are perfect for day to day use. The only downside is pod monthly cost.
What is a Pod Mod
Pod mods are devices which work with replaceable pods. These come in different shapes and sizes but they only fit the product they were intended for.
Pod mods can be non-refillable or refillable. Non refillable pod device usually carry nicotine salts e-liquids and they are intended for mouth to lung use. Refillable pod systems can be used with any type of high nicotine strength e-liquids, but we mostly recommend nicotine salts.
Low output vaporizers
Low output personal vaporizers are usually all in one products where the output power doesn't exceed 15W. Combined with high resistance coils and a relatively small battery these make great portable devices. They are most efficient when used with nicotine salts liquids.
All in one devices have the e-juice reservoir integrated in the body. This system accounts for a leak-free experience and easy maintenance.
Nicotine Salts the perfect match
As opposed to regular freebase nicotine, nicotine salts can be used in higher concentrations without having a harsh throat hit. This ensures more of the substances reaches the bloodstream and provides long term relief.
Nicotine salts e-liquids are manufactured by different brands and come in a variety of concentrations from 20mg up to 50mg. Many closed system pod manufacturers use nicotine salts with their starter kits as this works perfectly with the low output batteries they usually carry.