Best Squonk mods 2020 - Top performing squonker starter kits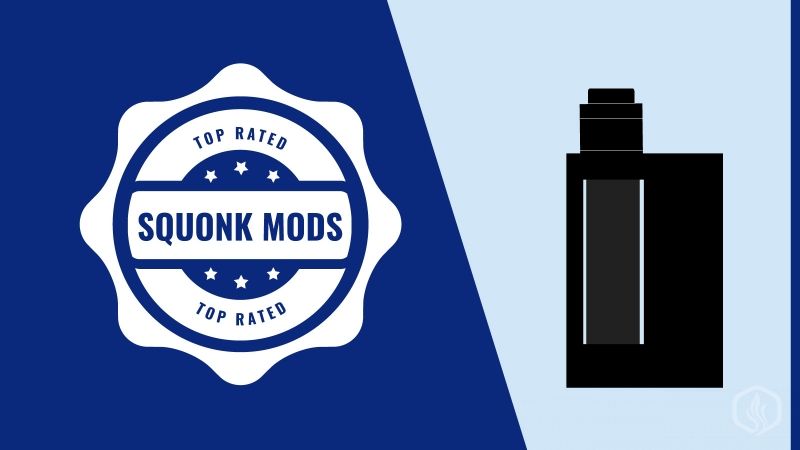 If you are looking for the Best Squonk Mods in 2020 you came to the right place
Our team of reviewers has tested a wide variety of squonk vapes and ranked them accordingly. Everything from the most affordable squonkers to high end devices that are machined to perfection.
Most of these squonk starter kits include quality RDAs or some form of tank or atomizer. If that is not the case, we suggested a matching atty that pairs perfectly with the device.
However, not all mods are intended for beginners, this also includes the squonker. Make sure you read our suggestions before making a purchase.
The best squonkers | 2020 edition
Note: We use affiliate links to the products we feature. We may receive a small commission whenever you make a purchase using one of these links. However, this will never influence our opinions and ratings we give to squonker mods and squonk vaporizers. We will always be unbiased and honest when it comes to our recommendations.
The Best Squonk Mods ranked by overall performance
Vandy Vape Pulse BF
With a beautiful design, a wide range of colors and a great RDA the Vandy Vape Pulse BF Squonker is one of our favorite starter kits. Designed in collaboration with Tony B. from the Vapor Trail Channel, this device absolutely rocks.
Powered by a single 18650 or 20700 battery, this bad boy has a maximum output current of 40A. The 24mm RDA is easy to build on and the clouds are just insane. It's also one of the most affordable devices in this category.
The mod is fully mechanical and therefore not intended for beginners. You can pair it with a bottom feeding atty like the Pulse RDA or the Dead Rabbit RDA to make an exceptional starter kit.
| What we liked | What we didn't like |
| --- | --- |
| Great performance | Not intended for beginners |
| Very affordable | Made from plastic |
| Nice lock mechanism | Doesn't come with an RDA |
Verdict: The Vandy Vape Pulse BF squonker mod is one of the most affordable devices in this category. It also and offers great performance. Despite being made from plastic it feels quite durable and sturdy. The magnetic panels are a nice touch. Read the full VANDY VAPE PULSE BF review.
Aspire FeedLink REVVO
The Aspire FeedLink REVVO squonk mod is an outstanding piece of engineering. It not only looks great but also performs like a champ. It features the revolutionary Revvo Boost sub ohm tank and a very interesting type of circular-flat atomizer head.
The device delivers stellar vapor production and flavor with the ARC coil. Also the 7ml silicone bottle is comfortable to use and feels nice in the hand.
The resin panels are a nice added touch in terms of design. You can definitely say that this bottom feeding mod has a premium feel to it.
| What we liked | What we didn't like |
| --- | --- |
| Looks incredible with the resin panels | Only works with 18650 batteries |
| Innovative coil design | |
| 7.0ml squonk bottle | |
Verdict: The Aspire FeedLink REVVO is a good squnonk mod. It features a bottom feeding tank instead of an RDA and works with the innovative Arc coils. Flavor and vapor production are off the charts with this one. Read the full Aspire FeedLink REVVO review.
Eleaf Pico Squeeze 2
One of the most compact squonk mods in 2018 the Eleaf Pico Squeeze 2 is also one of our all time favorites. This tiny device is compatible with a single 21700 or 18650 battery and comes with the Coral 2 RDA. You can get it in a range of beautiful colors and it's a regulated device.
The squonk bottle has a capacity of 8.0ml of e-liquid and feels nice when squeezed. You can adjust wattage up to 100W in 1W increments and also select temp control, TCR, or bypass mode. It's a great device for beginners looking to get into squonking.
| What we liked | What we didn't like |
| --- | --- |
| Upgradeable firmware | Adjustment buttons are hard to press individually |
| Great RDA included with the kit | Airflow is not that smooth |
| Works with 21700/18650 batteries | Deck is a bit tricky to build on |
Verdict: The Eleaf Pico Squeeze 2 squonker mod is excellent for beginners. It's a fully regulated device and has a maximum output of 100W. Read the full Eleaf Pico Squeeze 2 review.
Driptech DS
Designed by 528 Custom Vapes, the Driptech DS squonk device is quite impressive. It's fully mechanical and definitely not intended for beginners.
This dual 18650 bad boy allows for low ohm builds and cloud chasing performance. The driptech is made from lightweight anodized aluminum. We can say that the device feels sturdy and durable.
Also all the connectors have been gold plated. This ensures extra conductivity and low voltage drop. You can pair this device with the Little Foot RDA in matching color to create an amazing stater kit.
| What we liked | What we didn't like |
| --- | --- |
| Great squonk bottle | Not intended for beginners |
| Outstanding build quality | No electrical protections |
| Stellar performance due to low voltage drop | Doesn't come with an RDA |
Verdict: The Driptech DS squonk mod is machined to perfection. It has a great build quality and offers unparalleled performance. The DS comes with one of the best squonk bottles out there. Read the full DRIPTECH DS review.
Ijoy Capo Squonk
The iJoy CAPO starter kit is hands down one of our favorite squonkers. This compact mod features a 9.0ml e-juice reservoir and a nice OLED display. It's powered by a single 20700 40A high-drain battery, which is included in the box.
The Combo RDA Triangle is a 25mm atty with an innovative post design. It's easy to build on and the vapor and flavor are some of the best we experienced. You will be amazed of how much power this tiny starter kit can deliver. Build quality is great and the colors are just fantastic!
| What we liked | What we didn't like |
| --- | --- |
| Well built | It's regulated |
| Compact | |
| Great performance | |
Verdict: : If you enjoy a great squonker, you are going to love the iJoy CAPO Squonk 100W TC. It's excellent for beginners as well as pros. Awesome quality, perfect clouds.
Sigelei Fuchai Squonk 213
The Sigelei Fuchai 213 Squonk stater kit has 150W and works with any 18650, 20700 or 21700 High-Amp battery. It has a beautiful design, with soft curves around the edges to fit the palm of your hand just perfectly.
It comes in three different colors, has a 5.0ml e-liquid reservoir and features temperature control, TCR and TFR. It's also one of the few squonkers to have a 0.96" TFT OLED display. Build quality is top notch and flavor and vapor are off the charts with this one.
| What we liked | What we didn't like |
| --- | --- |
| Regulated | Small capacity squonk bottle |
| Nice 0.96" TFT OLED display | Non upgradeable firmware |
| Perfect for beginners | |
Verdict: The Sigelei Fuchai Squonk 213 is a regulated device that we recommend to beginners. It's packed with features and the overall experience is more than ok. The squonk bottle is not as big as the competition.
Augvape Druga Squonk kit
The Augvape Druga is a very affordable Squonk starter kit that comes with an RDA. Powered by a single 18650 battery this has a magnetic cover panel with round corner design.
The body is made from Nylon & ABS heat resistant thermoplastic allowing for a fully mechanical operating mode. The atty has a clamp system for the coils for easy building and enhanced functionality. Clouds and flavor are really good.
| What we liked | What we didn't like |
| --- | --- |
| 8ml squonk bottle | Battery is very close to the e-liquid bottle |
| Druga RDA is great for flavor | Not for beginners |
| | |
Verdict: The Augvape Druga kit is quality squonk mod at an affordable price. It's easy to use, works without issues and the included RDA is perfect for flavor.
Kanger Dripbox AIO
The Kanger Dripbox AIO was one of the first ever squonkers to be mass produced by a big vaping company. It was the first product of this kind we tested and immediately fell in love. It's still one of our favorite all time starter kits and the red color makes it so appealing.
Nice build quality, great clouds and pretty good flavor. Works with a single 18650 battery.
| What we liked | What we didn't like |
| --- | --- |
| Looks and colors | Non adjustable output |
| Removable 18650 battery | Poor battery life |
| | Limited coils |
Verdict: The Kanger Dripbox AIO is one of the first squonk mods to be mass produced. It's still available to this date and it's one of the most iconic products in this category. Battery life could be better, but overall performance is pretty good.
Squonk mods explained
What is a squonk mod and how does it work
All of these devices are also known as squonkers or squonk mods. A squonker is a box shaped mod with a plastic or silicone e-liquid reservoir that's squeeze-able.
Whenever the user exerts pressure on the reservoir, juice passes through a small hole within the 510 connector and reaches the bottom feeding RDA.
Inside the atty it soaks up the wicking material with enough juice that it becomes fully saturated. This happens regardless of the VG to PG ratio .
This is a very ingenious way of using an RDA without having to constantly take the cap off and drip e-liquid over the coils. Due to the negative pressure created, the excess juice gets pulled back into the reservoir and prevent leaking.
Most squnk kits come with included RDAs. These rebuildable dripping atomizers are great for clouds and flavor. They are used by all the vaping professionals and they are extremely versatile. They require some basic understanding about coil building and wicking. But no worries, because the overall experience is totally worth it.
The two main types of squnkers
There are basically two main types of squonk mods available on the market: regulated and unregulated.
Regulated squonk mods have built-in boards and circuits. This helps get a constant or adjustable output from the battery and includes multiple protections. We recommend these types of devices to beginners since they are easier to work with.
The wattage and even temperature can be set to specific values and this helps tame vapor production, throat hit and overall experience.
Many of these devices also come with displays and have simple menu systems.
Unregulated squonk mods on the other hand don't have any boards or chips inside. They work through direct contact with the battery and this delivers raw power directly to the atomizer. Vapor production is much more intense and the device feels more hard-hitting and responsive.
Because it doesn't come with built-in protections we cannot recommend unregulated squonkers to beginners. Any short-circuit inside the atomizer could have a dangerous impact on the battery and produce venting. This is a powerful chemical reaction that generates heat and gas and could result into fires and even explosions.
Who needs a squnok mod
Squnk mods were designed to solve a simple problem: dripping. As you probably know, RDAs require constant dripping through the mouthpiece or even taking the top cap off. This can be time consuming, irritating and even dangerous some times. Just think about how many vapers try to drip when they are behind the wheel.
With a squonk mod you just need to squeeze on the tiny bottle and fresh e-liquid floods the atomizer in a matter of seconds. You don't have to drip, check the wicking material for the level of saturation or worry about leaks.
Squonking is a very simple and efficient process that works great on the long run. All the excess juice is absorbed back into the reservoir and you can enjoy the same great clouds every single time.