Best Vape RDA's 2020 - Top performing rebuildable dripping atomizers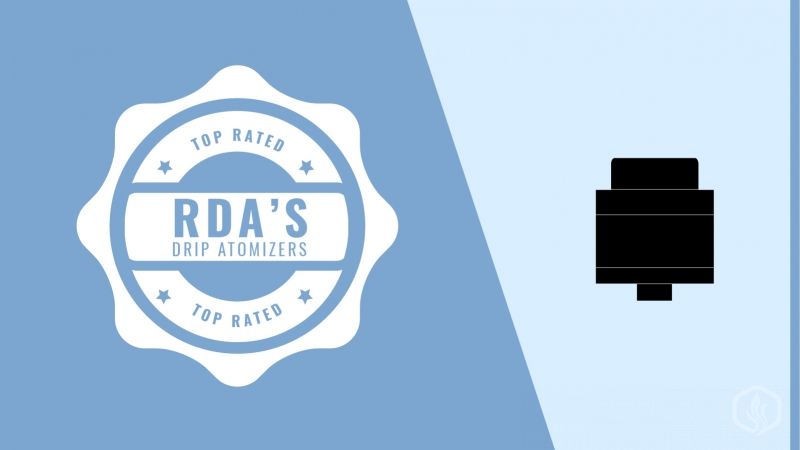 Ecigguide welcomes you to our best RDA vapes list. On this page we cover everything from RDAs for flavor and clouds to easier to use RDAs for beginners. Our trained staff has personally tested most top quality RDAs on the market. This is why we have the knowledge and experience to help you pick a product suitable for your needs.
Good rebuild-able dripping atomizers are fun to use but may seem intimidating to beginners. Also cheap RDAs are not always the right option since they use low quality O-rings and the machining is not that smooth.
We are going to explain what exactly is an RDA vape and what sets it apart from other atomizers. We will also try to answer to questions like: What are the benefits of using a good RDA and why these atties are so popular. Not all devices are created equal. This is why understanding principles like the type of build deck and airflow adjustment are crucial for making the right choice.
New RDAs are constantly being released on the market, however these don't always give the best results. There are multiple aspects to consider when picking the best RDA, so please read out list before making a purchase.
Disclosure: The RDAs featured on this page were tested by our trained team of reviewers. We use affiliate links to these products as part of the review. This means that we receive a small commission whenever you make a purchase using one of our links. However, this will never influence our opinions and ratings we give to these devices. It also doesn't affect the price you pay for any particular vape. The commissions we earn are used to keep the site up and running. This way we will always be unbiased and honest when it comes to our recommendations.
Ecigguide.com is not intended to be accessed or used by individuals under eighteen years of age. If you are under eighteen (18) years of age please leave this website immediately. We also do not provide medical advice, and all the content is for general information purposes only.
Overall Best RDA vapes in 2020 per category
These are the best in class RDAs in 2019. Top of the line products featuring great vapor production, above par flavor and excellent overall experience. Tested by our trained staff and ranked according to category and performance:
Best Flavor RDAs
These are our top picks for the best flavor RDA. All these atomizers have been engineered to deliver the most out of your e-liquids. The experience also depends on the type of build and the way the airflow has been set. But if consider yourself a flavor chaser then you won't go wrong with any of these high end RDA vapes.
Goon LP RDA
With its legendary 810 ULTEM drip tip, the GOON LP is our favorite RDA so far. Build quality on this tiny fog machine is very impressive. It also feels it could survive a nuclear war and it chucks clouds like an absolute monster. It's very easy to mount your build due to the clamp system on the deck and flavor is off the charts with this one.
The build deck is different from the original model and the low profile design boasts flavor. It also comes with a BF 510 pin, which makes it compatible with a wide range of squonk mods. And as long as the device is thicker than 24mm, then this bad boy is bound to look great on top of anything. It's easy to build, takes all types of coils and the adjustable airflow makes the overall experience close to perfect.
We found our sweet spot to be between 40 - 75W, but of course it all depends on the user and the type of coils. Due to the short 510 connector it's not the best RDA for hybrid mech mods but works well on all other devices.
This rebuildable dripping atomizer not only looks fantastic but it performs like a rock star. Everything about it feels top quality and pairs up perfectly with just about any high power box mod.
| What we liked | What we didn't like |
| --- | --- |
| Amazing flavor | The coil can touch the top cap at times, if not perfectly aligned |
| Great vapor production | A bit expensive |
| Top notch build quality | |
Verdict: The Goon LP is our favorite RDA for the moment and it's one of the best products in this category. With exceptional build quality, great flavor and off the charts vapor, you can't go wrong with this one. Just keep your eyes out for clones, because they suck. Read the full Goon LP RDA review here.
Recoil Rebel
Designed by Grimm Green himself in collaboration with OhmBoyOC, the Recoil Rebel is quite an impressive RDA vape. Flavor on this tiny locomotive is unbelievable and the machining is close to perfect. You get two types of top caps, one for flavor and one for clouds and they both rock.
Compared to the original Performance RDA, the deck has been improved. You can now slide in your coils much easier and the grip on the flat head screws is amazing. Considering the 25mm diameter and the 24mm build deck, there's more room to work with.
To enhance conductivity they used a gold plated brass 510 pin. This makes the top flavor RDA hit like a powerhouse and the overall experience is easily customizable due to the adjustable airflow. There are also three lovely colors to choose from and the design is virtually leak proof. Another thing worth mentioning is the Delrin drip tip that never gets hot.
It's the perfect cloud chasing accessory and we recommend using it beyond 60W to enjoy all the perks.
| What we liked | What we didn't like |
| --- | --- |
| Build quality | Not the cheapest RDA |
| vapor production | The drip tip is not standard 810 |
| Friendly build deck | |
Verdict: The Recoil Rebel is an exceptional RDA built for clouds and flavor. It's incredibly easy to build on and the material quality surpasses all expectations.
Digiflavor Pharaoh RDA
Designed by Rip Trippers and manufactured by Digiflavor, the Pharaoh RDA is one of our all time favorites. This solid rebuildable dripping atomizer has a few tricks up its sleeve that sets it apart from other atties. One of the best flavor RDAs ever built, the Pharaoh features a clamp system that easily takes any coils. The threading is butter smooth and the posts are spring loaded for even more convenience and user friendliness.
The base has a diameter of 25mm and total height is 35mm. Due to the way it was designed, this RDA is virtually leak proof and has a reservoir of 3.0ml. The wide bore drip tip is comfortable and helps enhance flavor.
The Pharaoh RDA delivers an amazing overall experience and flavor is spot on. It can get a bit tricky to drip e-liquid without taking the top cap off, but once you get the hang of it, the process becomes easy as pie. The airflow adjustment system ensures a perfect draw each time and build quality wise feels it could withstanding anything you throw at it.
| What we liked | What we didn't like |
| --- | --- |
| Great flavor | Complicated to drip with the cap on |
| Easy to use build deck | A bit taller than the competitors |
| Does not leak | |
Verdict: The Pharaoh is a top flavor RDA with an unique design. The build deck is easy to work with and it takes all types of coils without isses.

Best Cheap RDAs
The following atomizers are our picks for best cheap RDA. They have an incredible quality to price ratio and they are great for clouds and flavor. If you're on a budged or don't want to spend too much on an atty then this is definitely the way to go. You will be amazing of the build quality some of these bad boys offer for such an affordable price.
Ijoy Wondervape RDA
The iJoy Wondervape RDA ranks 1st in this category because it has one of the best quality to price ratios on the market. This $30 atty has the same build quality and uses roughly the same materials as many of its high end competitors. It also comes in a variety of colors and has that Goon style drip tip which make it look so good on top of any mod.
The build deck is engineered to accommodate any build and the post holes are wide enough to take all types of coils. The Kennedy-style airflow ensures a smooth draw and great flavor. You can use the RDA vape in single or dual coil mode, unfortunately there's no way to completely close off one of the slots.
The Wondervape RDA from iJoy great for beginners too and it's easy to build on. Vapor and flavor are really impressive in this price range and the O-rings seal perfectly.
| What we liked | What we didn't like |
| --- | --- |
| Exceptional quality at an affordable price | Can't completely close off one airflow slot when in single coil mode |
| Above par vapor and flavor | |
| | |
Verdict: The iJoy Wondervape RDA offers great quality at a more than reasonable price. It's easy to build on, a pleasure to use and the clouds are fantastic.

GeekVape Loop RDA
The GeekVape Loop is a very affordable RDA with the most unique build deck ever. It's built from high quality materials and the machining is very smooth for this price tag. The atomizer offers a good balance between flavor and vapor production and works best in dual coil mode. It also has a single coil option, with only one airflow slot but the experience is not as good.
You can get the Loop RDA in four different colors, and they all come with a wide bore ULTEM drip tip on top. This one doesn't burn your lips, despite the atty getting quite hot at times. As a matter of fact, it's one of the hottest RDAs we tested and it's mainly due to the design of the deck. The flathead screws are pretty easy to work with, but it's not that easy to work with complex builds.
The best part about this cheap RDA is that it also comes with a BF 510 pin. This means you can use it with any squonk mod and it only measures 24mm in diameter.
| What we liked | What we didn't like |
| --- | --- |
| Nice build quality in this price range | It gets pretty hot even at medium outputs |
| Comes with a bottom feed 510 pin | |
| Comfortable ULTEM drip tip | |
Verdict: The GeekVape Loop RDA is an affordable atty with many tricks up its sleeve. It works in single and dual coil mode and the indirect airflow system is pretty revolutionary.
Augvape DRUGA RDA
The Augvape DRUGA RDA is much cheaper alternative to the Goon. It has the same low profile design and a similar ULTEM drip tip. The build deck is classical, with two thumb screws holding the leads together. In addition, atty is made from high quality 304 stainless steel and it's available in a range of vibrant colors.
Besides the ULTEM drip tip you also get a taller Delrin alternative as well as a standard 510 mouthpiece adapter. And in case you're interested this hard hitting RDA is also compatible with standard 810 Goon drip tips.
Unfortunately the DRUGA RDA has only a 20mm build deck. This doesn't make it suitable for beginners since there's not too much room to work with. If you do however have some experience with coils, then it's a pretty solid deal when considering the price.
In terms of flavor and clouds, it's not the best RDA out there, but it does a great job. The juice well is pretty generous and the airflow adjustment systems works without flaw.
| What we liked | What we didn't like |
| --- | --- |
| Affordable | Small build deck |
| Simple to use | Post screws are not that great |
| Great 810 ULTEM drip tip included | |
Verdict: The Augvape DRUGA RDA offers a great combination of performance and quality at an affordable price. It uses a simple build deck and dual coils for a smooth and hard hitting overall experience.
Best RDAs for squonking
There are our top picks for best squonk RDAs. All these atomizers come with a bottom feeding 510 connector and are intended to be used together with squonk mods. They are very convenient because instead of dripping e-liquid through the mouthpiece you just have to squeeze the reservoir and the coils are fully saturated.
Dead Rabbit RDA
The Dead Rabbit RDA is the brainchild of youtube reviewer Heathen. Built by Hellvape, this tiny cloud chucker delivers amazing flavor and vapor. It's a great atty to put on top any squonk mod. The color options are varied and looking at the price tag we consider this RDA a best buy in its category.
The most revolutionary thing about the Dead Rabbit BF atty is the build deck. This is both innovative and easy to work with. The posts are designed like rabbit years and it's easy to slide in any type of build. You can also use it with the standard 510 pin if you're not a big fan of squonking.
Flavor is off the charts with this one and the airflow is very smooth. We also like the wide bore drip tip a lot and it quickly became one of our all time favorites. The 24mm base diameter makes it compatible with a wide range of popular box mods on the market right now.
| What we liked | What we didn't like |
| --- | --- |
| Innovative build deck design | The O-rings are a bit loose |
| Amazing flavor | |
| Comfortable drip tip | |
Verdict: The Dead Rabbit RDA is our favorite atomizer for squonking. It comes with a pretty unique build deck and offers perfect flavor and vapor for an affordable price.

Little Foot RDA
The Little Foot RDA is a 24mm BF atty that's perfect for squonking. It's also one of our favorite atomizers in 2018 in terms of looks and you can get it in a wide range of colors. The 9mm mouthpieces is fully compatible with Goon style 810 ULTEM or resin drip tips.
The build deck is very easy to use, which makes this a good RDA for beginners. There's enough room to accommodate even complex builds and the adjustable airflow is super smooth. It's a device for Claptons or Alien Claptons as long as you don't overtighten the post screws.
The Little Foot atty is a BF RDA designed for flavor that also comes with a standard 510 pin. You can use it with most box mods on the market and we definitely recommend a squonker for the ultimate experience. The juice well is quite big and ideal for bottom feeding e-liquid.
| What we liked | What we didn't like |
| --- | --- |
| Generous juice well | Post screws are easily stipped |
| Easy to use and to build | |
| You can get it in a wide range of colors | |
Verdict: The Little Foot RDA is an incredible BF atomizer built for squonking. The build deck is easy to use, there are multiple colors to choose from and the flavor is spot on.

Vandy Vape Pulse BF RDA
Designed by famous Youtube reviewer Tony B. and manufactured by Vandy Vape, the Pulse BF RDA is an amazing squonk atomizer. This is also one of the most affordable atties in this category and a product we definitely recommend. Measuring only 24mm in diameter, the device is fully compatible with the most common box mods available right now.
The Pulse BF comes with two different 810 drip tips and a gold plated 510 contact. It also features a slanted jet funnel airflow system that's incredibly smooth. This really helps improve the overall flavor and vapor production. The build deck has a post-less design and its easy to build on. It makes the atomizer suitable for beginners and can be used in single or dual coil mode.
The overall build quality is outstanding and makes the RDA such a pleasure to use.
Pro's: Affordable, easy to use, good airflow
Cons: None that we could find
| What we liked | What we didn't like |
| --- | --- |
| Affordable | We didn't find any cons with this one |
| Easy to use and to build | |
| Great airflow | |
Verdict: The Vandy Vape Pulse BF RDA is a good atomizer for squonking. Due to its simple the design and easy to use build-deck it's perfect for beginers. Flavor and vapor production are above par.
What is an RDA vape and what sets it apart from other atomizers
The RDA vape is the most popular type of rebuildable atomizer. It's the thing pro vapers and tricksters use during events and competitions and they do it for good reason.
An RDA atty can produce massive vapor from even the simplest builds and it's very easy to work with. At the same time it's pretty rudimentary in design and requires basic coil building knowledge. Understanding Ohm's Law of electricity is also a must when dealing with a rebuildable dripping atomizer. This is the main reason why we rarely recommend it to beginners.
What does RDA stand for
RDA stands for Rebuildable Dripping Atomizer. The Atomizer is a part of any electronic cigarette or vape mod that is responsible with the process of vaporization. It's called Rebuildable since the coils and wicking material are made by the user and can be replaced at any time. The term Dripping comes from pouring e-liquid directly onto the coils through the mouthpiece. It's the general practice with any RDA atty and it's why it's so convenient.
The main parts of an RDA atomizer
An RDA atomizer consists of two contacts - or posts - and a resistor - referred to as the coil - that is connected to both these contacts. It represents the most basic type of electric circuit and it's activated whenever the fire button is pressed. This is where e-liquid is turned into vapor with heat generated from the coil. The coil can be made from any type of vape wire, or it can be a combination of different wire materials.
A round metallic tube usually covers and protects the posts and coil. This is called the barrel. On top of the barrel we have a cap as well as the mouthpiece - or drip tip. All these pieces are held in place by O-rings and they are fully detachable.
The upper section of the atomizer that consists of the posts and coil is referred to as the deck. This usually features an indentation called the juice well. Here is where the excess e-liquid gets stored between drip sessions. The bottom section is called the base and it features the 510 connector. This makes the RDA a 510 atomizer intended for direct dripping.
How to use an RDA
The RDA is the most basic type of atomizer. And while the design may be different depending on manufacturer, the principle of operation is always the same.
The coil needs to be connected with one end to the positive post and the other to the negative post. It should not touch the deck or the barrel as this can cause short-circuits. In the case of dual or quad coil builds, each coil needs to be connected to the posts by following the same guidelines. This is also true in case of complex DIY coils like Claptons or fused Claptons.
All builds have to be tested with an Ohm-meter or by placing the RDA on top a box mod that reads the resistance. The wicking material should pass through the coil without too much tension. At the same time, both ends of the wick should touch the base of the juice well.
Once everything is set, the user needs to to fully assemble the RDA and drip e-liquid directly onto the wicks until the material gets fully saturated. This process can be done directly through the drip top, or by taking off the whole barrel section.
As the fire button is pressed, vapor is created inside the atomizer and the user needs to inhale it. Depending on the type of product and the set airflow, these inhales can be direct lung or mouth to lung style.
Wax and dry herb RDA
Not all RDA vapes are intended to be used with e-liquids. There are some models like the Atmos Kiln RA which work with waxes. These atomizers act like heating chambers and they have the same standard 510 connector. This means they can be used on top of any box mod as long as the output is set to anywhere between 5 - 15W.
Other RDAs like the Greedy M2 from Atmos also work with dry herb. It operates similarly to an oven and helps heat up the plant material in order to release all the volatile oils found inside.
Why are rebuildable dripping atomizers so convenient
RDAs are so convenient because they are particularly built for big clouds and amazing flavor. The amount of vapor they produce is unmatched by any other type of sub ohm tanks or atomizer and the flavor is spot on. They are excellent for sampling e-liquids, they are easy to build and equally easy to re-wick. They are also very durable and cheap on the long run.
The downside is that they require coil-building and wicking knowledge and are not intended for beginners. We never recommend using RDAs on top of mechanical mods because these are very susceptible to battery venting, explosions and even fires.
These types of dripping atomizers should only be used by vapers who know and understand Ohm's Laws and are aware of common battery safety practices.