Best Vape Batteries 2020 - top performing 18650 and 21700 cells for mods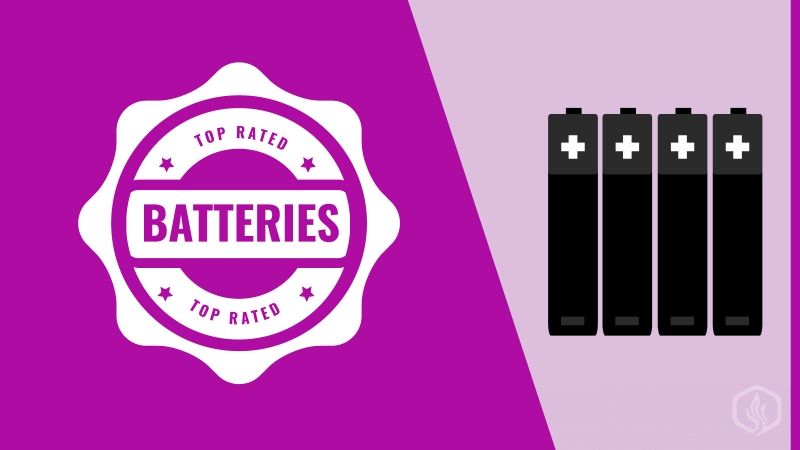 These are the best vape batteries 2020
Having good batteries is very important for a great overall vaping experience. This is regardless if you're using a state of the art box mod vape or a mechanical mod. And don't think genuine vape batteries are only good for long running times. They also have an impact over the peak power of your device and overall safety.
Whether we're talking about high drain 18650 batteries, 20700 or 21700 cells, these are the top recommended products in each category.
Disclosure: The best vape batteries featured on this page were tested by our trained team of reviewers. We use affiliate links to these products as part of the review. This means that we receive a small commission whenever you make a purchase using one of our links. However, this will never influence our opinions and ratings we give to these devices. It also doesn't affect the price you pay for any particular vape. The commissions we earn are used to keep the site up and running. This way we will always be unbiased and honest when it comes to our recommendations.
Ecigguide.com is not intended to be accessed or used by individuals under eighteen years of age. If you are under eighteen (18) years of age please leave this website immediately. We also do not provide medical advice, and all the content is for general information purposes only.
The best vape batteries | 2020 edition
Best 18650 batteries
18650 batteries are the most commonly used for the wide majority of electronic and mechanical mods. A good 18650 battery will ensure optimum power output and safety. Here are our top 2 recommendations for this category. Both these cells have been long tested by our team and always performed as intended.
Sony VTC5A
The Sony VTC5A battery is one of the best cells on the market right now. And we are not the only ones saying this, this model has been thoroughly tested across the years and vetted by a great number of reviewers.
It's rated to only 25A discharge rate, which might seem lower than some of the competition. However, you can rest assured that the 25A are 100% and not just a marketing gimmick like in many other cases.
| Technical | Specification |
| --- | --- |
| Continuous discharge current | 25A |
| Battery capacity | 2600mAh |
| Nominal voltage | 3.7V |
Verdict: The Sony VTC5A is one of the best vape batteries money can buy. It's very reliable, stable and ensures optimum performance. It's a product we recommended across the years and it's still our no. #1 pick.
Samsung 20S
The Samsung 20S is another hard hitting vape battery which we totally recommend. It's a bit newer than the Sony but so far it has flawlessly past every test.
The cell only has 2000mAh but offers a real continuous discharge rate of 30A. It's a battery suitable for all types of mechanical mods and high power box mods.
| Technical | Specification |
| --- | --- |
| Continuous discharge current | 30A |
| Battery capacity | 2000mAh |
| Nominal voltage | 3.6V |
Verdict: The Samsung 20S is our runner up for best vape battery. It offers a high discharge rate, it's very stable and hits like a locomotive.
Best 20700 batteries
20700 batteries are not as popular like their 18650 counterparts, however some box mods use them because of their higher capacity and discharge rate. We recommend recharging them with an external charger rather than using the mod. In this case you need to make sure the charge is compatible with 20700 cells.
Hohm Tech Sherlock Hohm
When it comes to good 20700 batteries the Hohm Tech Sherlock Hohm is hard to beat. The call can withstand a maximum pulse discharge of 47.8A and a continuous discharge of 28A.
It's high discharge rate paired with the relatively high capacity make this battery ideal for any 20700 box mod.
| Technical | Specification |
| --- | --- |
| Continuous discharge current | 28A |
| Battery capacity | 2782mAh |
| Nominal voltage | 3.7V |
Verdict: The Hohm Tech Sherlock Hohm has received hundreds of positive reviews and for good reason. It's high discharge rate and capacity make it our go to cell for any 20700 compatible mod.
iJoy 20700
The iJoy 20700 is a very reliable battery. It is included with certain iJoy box mods like the Captain PD270 and delivers outstanding results. You can also buy it separately for any other single or dual 20700 compatible device.
This cell has a higher discharge rate, however we are not exactly sure it's able to actually reach 85A in pulse mode. This is why we recommend not going over the specified Amperage when using it with a mechanical mod.
| Technical | Specification |
| --- | --- |
| Continuous discharge current | 40A |
| Battery capacity | 3000mAh |
| Nominal voltage | 3.7V |
Verdict: When it comes to great 20700 vape batteries the iJoy 20700 is a really good alternative. It offers outstanding discharge rates and capacity and it's perfect for mods with dual batteries.
Best 21700 batteries
21700 batteries offer the best performance to size ratio and they are very powerful. They are not as popular as 18650 cells since few mods work with such batteries, however in terms of versatility they are top of the line.
Samsung 30T
The Samsung 30T is our number one pic for best 21700 battery. Despite its modest specification this cell hits like a powerhouse and it's one of our favorites from 2018.
The 30T is only rated for 35A continuous discharge rate, however rest assured these specifications accurate. Unlike other brands, Samsung are very reliable and their products have always been on top of the competition.
| Technical | Specification |
| --- | --- |
| Continuous discharge current | 35A |
| Battery capacity | 3000mAh |
| Nominal voltage | 3.6V |
Verdict: The Samsung 30T is one of the highest ranking 21700 batteries. It offers amazing performance, stability and incredible autonomy in dual cell mods.
Golisi S35 IMR
We have to admit we didn't have high expectations from the Golisi S35 IMR battery. However this 21700 cell managed to surprise us in most of our tests.
It's 40A discharge rate might be a bit of an overstatement, but we are more than sure it can go up to 35A without issues. On the other hand its 3700mAh capacity offers oustanding battery life.
| Technical | Specification |
| --- | --- |
| Continuous discharge current | 40A |
| Battery capacity | 3700mAh |
| Nominal voltage | 3.7V |
Verdict: Golisi may be new to the battery market, but their products have received plenty of positive reviews so far. Such is the case of their S35 IMR 21700 battery which our no. #2 option in this category.
Best 26650 batteries
26650 batteries are the biggest and most powerful cells used in vaping. These products offer massive capacities and high discharge rates and their autonomy is just phenomenal. Do take into account that only a few mods are compatible with 26650 batteries.
Hohm Tech Hohm Grown
If you own a high power 26650 mod then the Hohm Tech Hohm Grown battery is perfect for the job. It has received dozens of positive reviews and we can see why it's so popular right now.
This battery will get you through a full day even if you vape at 100W. It one of the best cells released in 2018.
| Technical | Specification |
| --- | --- |
| Continuous discharge current | 32.3A |
| Battery capacity | 4307mAh |
| Nominal voltage | 3.7V |
Verdict: The Hohm Tech Hohm Grown is our favorite 26650 battery. It's powerful, has a high capacity and the autonomy is great. It's going to last the full day without issues.
Efest IMR 26650
The Efest IMR is our runner up for best 26650 vape battery. It doesn't have such a high discharge rate, however its autonomy is exceptional.
This battery is great for dual 26650 mods as it will last for up to 2 full days of usage at 60W.
| Technical | Specification |
| --- | --- |
| Continuous discharge current | 20A |
| Battery capacity | 4200mAh |
| Nominal voltage | 3.7V |
Verdict: The Efest IMR 26650 may have a pulse discharge rate of 50A, however its continuous discharge is only 20A. It's therefore not a cell suitable for mechanical mods, however it's ideal for electronic vaporizers.
Vape batteries - A quick guide
What is a vape battery?
A vape battery is a replaceable cell that fits inside your mod. These batteries look the same to ordinary batteries like AA or AAA, however you won't find them in convenience stores. Most of these cells are often used in packs inside laptops, electric scooters and even electric cars. Their main feature is that they can store a lot of energy with respect to their size and this makes them popular for various industries.
Not to be confused with a vaporizer pen battery, which is a built-in cell that cannot be replaced.
Which are the most common vape batteries?
The 18650 battery is the most commonly used cell for both box mods and tubular mods. Older device used to work with smaller 18350 batteries, however these are not as popular nowadays.
Other commonly used vape batteries include bigger models like 20700, 21700, and 26650. These have higher capacities and discharge rates when compared to the ordinary 18650 and they offer better battery life.
What battery should I get for my mod?
When shopping for a good vape battery it's important to know which types of cells are compatible with your device. In the case of 18650 mods, these will only work with 18650 batteries. Mods that take bigger batteries like 20700, 21700 or 26650 may come with an adapter for 18650 cells. However, this is not always the case and you should always check the manual and specifications of your vape before purchasing batteries.
Do I really need an external charger for my batteries?
Most electronic box mods will recharge your batteries when connected to a wall adapter or an USB port. And while these will do a decent job most of the time, they don't offer the stability and performance of a dedicated vape charger. The charger will use specific current depending on the type of battery and it will help preserve its lifespan and peak power for much longer.
But even if you use a charger these cells won't last forever. Each unit has a limited number of recharge cycles - usually over 300 - after which it won't be able to store the same amount of energy. This is why if you notice a drop in performance and autonomy, it's probably time to replace vape batteries.