Best vape pens of 2020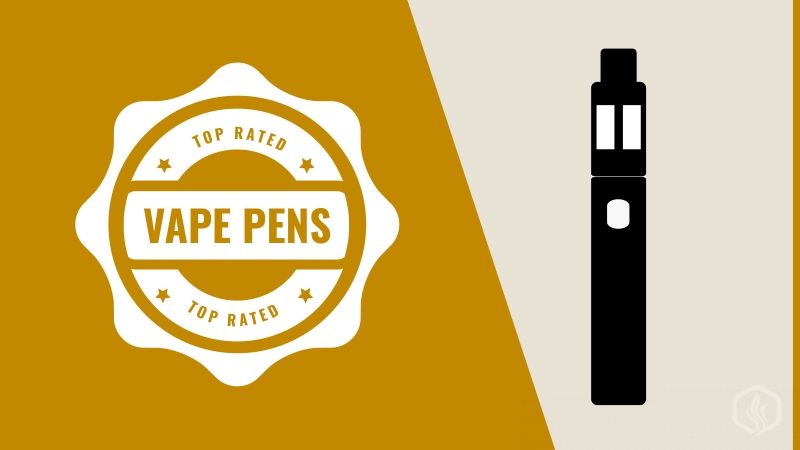 We recently updated our best vape pens list with the latest releases. We selected the top pens and ranked them according to performance and general feedback from our readers. From ready-to-go pen kits to separate vape pen batteries that you can buy without tanks. We have seen, felt and experienced them all. We rated the vape pens on; features, durability, affordability, reliability, flavor and vapor production.
If you're looking for the smallest pen vapes, like the tiny pod vapes, we only list a couple on this page. But we have reviewed plenty of them. Make sure to check out the reviews on Ecigguide.
Last updated: December 2019
Disclosure: The vape pens featured on this page were tested by our trained team of reviewers. We use affiliate links to these products as part of the review. This means that we receive a small commission whenever you make a purchase using one of our links. However, this will never influence our opinions and ratings we give to these devices. It also doesn't affect the price you pay for any particular vape. The commissions we earn are used to keep the site up and running. This way we will always be unbiased and honest when it comes to our recommendations.
Ecigguide.com is not intended to be accessed or used by individuals under eighteen years of age. If you are under eighteen (18) years of age please leave this website immediately. We also do not provide medical advice, and all the content is for general information purposes only.
Recommended vape pens for e-liquid - The 2020 toplist
Best performing pens

Current leaders:
quick scroll
#1 Rincoe Mechman 80W #2 Uwell Nunchaku
Rincoe Mechman 80W
The Rincoe Mechman 80W is our number #1 choice for best performance vape pen. This device is very easy to use, offers fully adjustable wattage and temperature and comes with a great tank inside the box. The build quality is truly impressive and the coils are amazing in terms of vapor quality and flavor.
Moreover, you can use it in Bypass mode where it behaves exactly like a mechanical mod.
The Mechman 80W is powered by a single 18650 which can be easily swapped so you never run out of juice.
| What we liked | What we didn't like |
| --- | --- |
| Excellent build quality | Bulky |
| Adjustable power and temperature | Dim display |
| Great tank and coils | Average battery life |
Verdict: Rincoe Mechman 80W is our favorite vape pen for a good reason. It delivers excellent vapor, great flavor and it's very easy to use.
Uwell Nunchaku 80W TC
Uwell Nunchaku 80W TC is one of the most technologically advanced vape pens on the market today. It features everything from variable wattage to temperature control as well as bypass mode. It's fitted with a very chic display and includes a very powerful sub Ohm tank.
Moreover, it is great for clouds and flavor.
The vape is powered by a single 18650 battery, which can be replaced when needed.
| What we liked | What we didn't like |
| --- | --- |
| Stellar build quality | Bulky |
| Great performance | Hard to see display |
| Temperature control | |
Verdict: Nunchaku 80W TC is hands down one of our favorite vape pens of all times. It is available in different colors, offers variable wattage up to 80W, temperature control and comes with one of the best tanks we got our hands on.
Best quality to price ratio

Current leaders:
quick scroll
#1 Vaporfi Vaio Go #2 Halo Tracer
VaporFi Vaio Go
Powerful and elegant, Vaporfi Vaio Go is one of the nicest looking vapor pens we tried last year, in 2018. It's an easy-to-fill device and because it has a drip tip it makes it an absolute pleasure to use.

Intended for direct lung as well as mouth to lung vaping, this versatile pen is perfect for any type of user.
The 0.5 Ohm coils are far superior in terms of flavor and vapor production.
| What we liked | What we didn't like |
| --- | --- |
| Very versatile | The coil often gets flooded after refills |
| Good battery life | The fill line is not very prominent |
| Two coil options | |
Verdict: The VaporFI Vaio Go is a beautifully designed AIO vape that's perfect for any type of user. Comes with two types of coils and the colors are nice and vibrant.
Halo Tracer Kit
Offering an excellent price to quality ratio, the Halo Tracer is one of our favorites.
It's built from high quality materials, has a great battery and an equally powerful tank. The flavor you get off it is really amazing and the kit comes with a 30ml bottle of top shelf e-liquid.
The flavor you get off it is really amazing and the kit comes with a 30ml bottle of top shelf e-liquid.
| What we liked | What we didn't like |
| --- | --- |
| Very safe to use | Only one type of coil |
| Easy to use | The tank can be hard to refill |
| Good flavor and clouds | Charges slowly |
Verdict: A really nice and well-built pen for liquids that's extremely portable. It does the job well and the liquid it comes with is also great.
Apollo Ohm Go kit
With a very futuristic and appealing design, the Apollo Ohm Go Kit earned a place in our recommended pen vape list for its build quality, performance and durability.
It's a sexy personal pen vaporizer powered by a 1900mAh battery. It features two coils for both sub Ohm and mouth to lung vaping.

| What we liked | What we didn't like |
| --- | --- |
| Looks amazing | The battery could be better |
| Two types of coils | The tank could've been better |
| Pocket friendly | Charges slowly |
Verdict:It is a good pick for both mouth to lung users and direct lung users as well.
Best AIO pens
VooPoo FINIC 20 AIO
Packed with mouth to lung as well as direct lung coils, the VooPoo FINIC 20 AIO is our favorite all-in-one vape pen. This is also one of the best looking products on the page and there are a number of cool designs to choose from. Powered by a non-removable 1500mAh battery this tiny vape has a GENE chip inside which makes it extremely consistent. Vapor production and flavor are really amazing regardless of the coils you are using.
| What we liked | What we didn't like |
| --- | --- |
| Gene Chip inside | Partially muted flavor |
| MTL & DL coils included | Tank is only 2ml |
| Easy to use | Flooding after refills |
Verdict: VooPoo FINIC 20 AIO is an excellent all in one vape pen addressed mainly at beginners. It comes with a very cool design and it features two types of coils.
Joyetech EGO AIO ECO
One of the first vapes solely intended for nicotine salts, Joyetech eGo AIO Eco is great for beginners who have recently made the switch. Engineered to deliver a very satisfying throat hit, this tiny pen is one of our all time favorites.
It features a big battery, a great refill mechanism and a really nice draw. The airflow is adjustable and works well. Another positive about this pen is that it's extremely affordable.
| What we liked | What we didn't like |
| --- | --- |
| Great design | Air flow is not adjustable |
| Easy to use | The battery could have been better |
| Good flavor | The draw might be too tight for some |
Verdict: Joyetech eGo AIO Eco is the perfect for high concentration nicotine salts e-liquids. This 650mAh / 1.2ml bad boy is super easy to use and delivers a very enjoyable overall experience.
Vape pens for beginners
Auto Vapor Zeus Kit
This one came as a real surprise. We didn't expect much out of this but were quite satisfied with the output.
Not exactly built for cloud chasing, Auto Vapor Zeus Kit makes the best overall impression. The flavor is incredible due to a well engineered heating element, it's light, easy to use and it automatically activates each time you take a puff.
| What we liked | What we didn't like |
| --- | --- |
| Great throat hit | The battery could've been better |
| Amazing vapor production | A little expensive |
| Easy to use | |
Verdict: Don't let the appearance fool you. While this may look like a rudimentary two piece e-cigarette like it's actually one of the better pens for vaping out there. The overall experience is outstanding and it packs a lot of punch for such a tiny product.
Joyetech Exceed D19
This 19mm beginners' vape comes with two types of coils as well as airflow adjustment. You can also switch between two operating modes: constant voltage and direct output, which makes it extremely versatile. This pen is compatible with mouth to lung and direct lung pulls.
| What we liked | What we didn't like |
| --- | --- |
| Two types of coils | Non removable mouthpiece |
| Good battery life | Plastic threads on top cap |
| Constant voltage or direct output | |
Verdict: The Joyetech Exceed D19 is a very capable performer from the entry level tier. It combines a great draw with excellent coils and fantastic battery life. It's the ideal beginners' vape.
Best battery vape pens
OBS Draco
The OBS Draco kit offers great battery life. It also comes with two types of reservoirs: regular and bubble glass for a maximum capacity of 3.5ml
The newer generation mesh coils deliver outstanding vapor and flavor and the device is very intuitive.
| What we liked | What we didn't like |
| --- | --- |
| 3000mAh battery | Fiddly top cap |
| Great mesh style coils | Only 3.5ml capacity |
| Battery indicator light | |
Verdict:The OBS Draco vape pen offers amazing performance paired with top notch battery life. It's easy to use, has great mesh coils and the flavor and vapor are off the charts.
SMOK Stick Prince
The SMOK Stick Prince combines great performance and stellar battery life. This sub ohm pen is perfect for cloud chasers and vaping enthusiasts. The coils are some of the best we tried and the tank is amazing.
| What we liked | What we didn't like |
| --- | --- |
| 3000mAh battery | Doesn't come with an extra glass |
| Durable and powerful coils | Rather bulky |
| 8.0ml max capacity | Airfow adjuster was too tight in the beginning |
Verdict:The SMOK Stick Prince is a very powerful vape pen with stellar battery life and a really cool tank. Maximum e-liquid capacity is 8.0ml and the coils are outstanding.
Current leading Vape Pens – 2020
Rincoe Mechman 80W – performance winner
Vaporfi Vaio Go– best quality to price ratio
Auto Vapor Zeus Kit – best for beginners
Halo Tracer Kit – best mid range performance
Apollo Ohm Go Kit – best looks
VooPoo FINIC 20 - best AIO pen
OBS Draco – best battery life
SMOK Stick Prince – best pen for sub ohming
Joyetech Exceed D19 – best entry level
We didn't have the chance to test all vape pens on the market, but these are the best we've tried so far. However, things like flavor, throat hit and vapor production are many times subjective and depend on the style of use and type of e-liquid involved. If you're still having problems picking the right one for your needs, contact us and we'll gladly help you out.
Vape Pens Explained
What is a vape pen?
Vape pens are portable vaporizers shaped like a pen. Also known as vaporizer pens, they can work with e-liquids, dry herb or concentrates, depending on the case.
Most vapor pens are intended to be used with e-juices. Some of the higher end products are as powerful as box vape mods and feature temperature control.
All vape pens are electronic vaporizers and can be regulated or unregulated. A regulated vape pen will deliver the same amount of vapor regardless of battery charge. Vapor coming from an unregulated device will start to diminish as soon as the battery loses more than half its charge.
What are the components of a vapor pen?
Ever since the early ego vape pens, the wide majority of pens consist of a battery and a tank. The battery usually has a single button and an LED notification light. It's charged via regular micro-USB port and capacity ranges between 650 - 3000mAh with a diameter between 19mm to 30mm.
The tank consists of a replaceable atomizer head and a reservoir for the e-liquid. Depending on the brand or model, these tanks can be compatible with one or multiple types of atomizers.
Atomizer resistances range from regular 1.2 - 1.8 Ohm to a sub Ohm value like 0.2 - 0.6 Ohms. Some tanks are intended for a mouth to lung vaping experience. A wide majority, however, is built for direct lung or mixed vaping. The only thing you need to keep an eye out for is VG/PG ratio. Lower than 80% vegetable glycerin concentrations make thinner juices which are best to avoid dry hits.
All in one vape pens have a unibody design, where the tank is integrated within the battery. The only removable part is the top cap, which also includes the chimney and coil.
These devices are typically leak proof and the tank cannot be removed.
Popular pen vape features, what to look for

Portability and ease of use are probably the main reasons why most people choose a vape pen. These devices have a single button operation and they are highly intuitive.
An LED notification light will blink whenever the battery is too low or when there's a problem with the atomizer. Easy to carry around in any pocket or purse, these are ideal when running errands, going to work or traveling.
A great feature of some vape pens is their ability to work with different types of coils. Any regular 1.2 - 1.5 - 1.8 Ohm is perfect for a mouth to lung vaping experience. Sub Ohm coils on the other hand like 0.2 - 0.6 Ohms are perfect for clouds and flavor. These products are particularly great for beginners, as they can make it easy to transition from cig-a-like type draw to a more efficient hookah style draw.
While temperature control is not that common with vape pens, there are some brands which offer this feature. Whenever the user swaps the regular Kanthal wire coil with its Nickel alternative, the battery detects this change and switches to TC mode automatically.
Vaporizer pens for dry herb
Not all vape pens are intended to be used with e-liquids. Some pen vapes are designed for dry herb. They come with compact ceramic ovens instead of atomizers; dry herb pens are great for on the go use.
Instead of firing each time the button is pressed, these devices use conduction to heat up the plant mixture. Once the optimum temperature has been reached, an LED light notifies the user.
Vapor production and battery life are typically low for vape pens for dry herbs.
Pens for concentrates & waxes

You can also find vape pens for concentrates and waxes. These usually have ceramic or quartz chambers and one or several temperature profiles. Very easy to use and to carry around, they provide a stealthy alternative to conventional vaporizers.
Some brands offer more than one atomizer and therefore make these products extremely versatile.
Multi purpose vape pens
The Multi purpose vape pen is the most complex. They can switch between operating modes and can work with e-liquids, dry herb and concentrates. Some feature micro-chips within the atomizer to detect operating mode automatically. Others do it manually whenever the cartridge is replaced with a different one.
Since they use different containers for different materials, you can always swap between atomizers and enjoy a hassle free vape experience. No mess, no fuss, just vapor and flavor.
Pens recommended for beginners
For beginners, we always recommend to start with a mouth to lung vape. These starter kits include atomizer heads which mimic the pull of actual cigarettes.
Vape pens with MTL and DL coils are also great. These help the user make the transition from moderate to big clouds. They don't require extra batteries or chargers and work with standard micro-USB cables.
Recommended for intermediate users
The Sub Ohm vaporizer pen is great for intermediate users. By combining low resistance coils with big capacity tanks, these devices deliver plenty of vapor and flavor. They are more portable than your average mod so it's easier to carry them around all day long. Optimum resistance is between 0.4 - 0.6 Ohms for a smooth and relaxing vape.
Vaporizer pens for advanced users
Most advanced users consider vape pens as back-ups for their powerful mods. In this case, we recommend purchasing the absolute best. Vapes with big 3000mAh batteries, powerful tanks and lots of features. Most of these products are compatible even with high VG e-liquids.
Vape pen buyer's guide
Buying a vape pen can be tricky if you are not familiar with the concept and what to look for. From the wide variety of pens out there, it s important to buy the device that is most appropriate for your needs. Pen vapes for e-liquids are the most popular however there are also pens for oils, waxes, herbs or concentrates. So make sure you read and understand all the info on any seller's website before making a purchase.
Most vapes come in a starter kit which includes a tank. Their batteries usually come with a single button, which acts as the activator and also the on/off switch. These devices are therefore simple to use and recommended for all kinds of vapers. You just have to fill up the tank with e-liquid and it's ready to puff.
People who are used to smoking cigarettes should choose a mouth to lung style pen, which is more suitable to their style of inhale. However, if you want to blow plenty of vapor then definitely go for a direct lung - sub ohm type of pen. Mouth to lung pens usually have atomizers with higher resistance and their batteries are not that high capacity. Sub ohm pens have beefy, low resistance coils and are paired with high capacity batteries.