Best nicotine salts in 2020 - high strength nic cartriges and e-liquids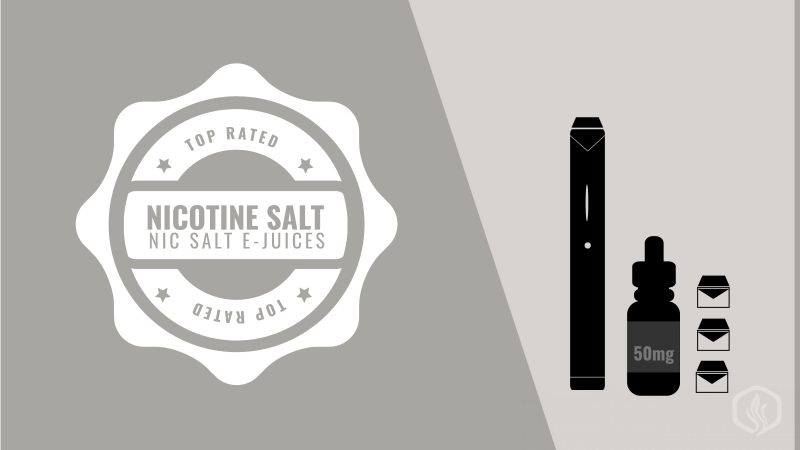 Ecigguide invites you to discover our best nicotine salts eliquids list. Since the introduction of pod vape, these juices have become increasingly popular. Nowadays they are one of the biggest industry trends. This means more and more people trying them out every day.
And while they are often associated with mouth to lung draws and pod systems, some vapers enjoy them on pens and tiny box mods too.
The best thing about salt nic is that it delivers maximum satisfaction with minimum vapor production. Since the substance is in higher concentration than in standard e-liquids the throat hit is more pronounced. This is great for MTL users who only want to avoid combustible cigarettes.
Just a year ago there was only handful of brands which offered salt based nicotine formulas. In the past few months however, dozens of companies have released their own line of similar products. And since this makes it difficult for the consumer;
We decided to present a list of the best nic salts money can buy. We've personally tested each of these brands and ranked them accordingly.
Disclosure: The salt nic juices featured on this page were tested by our trained team of reviewers. We use affiliate links to these products as part of the review. This means that we receive a small commission whenever you make a purchase using one of our links. However, this will never influence our opinions and ratings we give to these devices. It also doesn't affect the price you pay for any particular vape. The commissions we earn are used to keep the site up and running. This way we will always be unbiased and honest when it comes to our recommendations.
Ecigguide.com is not intended to be accessed or used by individuals under eighteen years of age. If you are under eighteen (18) years of age please leave this website immediately. We also do not provide medical advice, and all the content is for general information purposes only.
Best nicotine salts 2020
From the pod vape systems that started the revolution to the newly released nic salt e-liquids, here are the best in each class. Despite taste being so subjective, we tried to be as objective as possible and to keep an open mind.
We've listed these products based on their flavor, vapor production, throat hit and overall satisfaction.
Salt e liquid is ideal for that authentic cigarette-like experience. These juices have higher concentrations than regular "freebase" nicotine and therefore account for a more robust throat hit. In addition they keep the nic blood levels pretty high.
This means you don't need to puff as often as from a standard box mod or pen. These juices are usually associated with pod systems and low output vaporizers. They don't produce that much vapor and the give the best results when used in mouth to lung mode.
The recommendations we make are based on overall satisfaction, throat hit and flavor. And since flavor is subjective, we corroborate this with feedback we get from our readers and staff. This is why you will always find only the best nic salts on our list.
Best Nicotine salts cartridges
PHIX nicotine salts
Very similar to the JUUL cartridges, PHIX nicotine salts come in seven different flavors and 50mg concentrations. Throat hit is quite good and the Butterscotch Tobacco is hands down one of the best RY4s we tried so far.
They are not the cheapest around but the containers are slightly bigger than those of the competition.
| What we liked | What we didn't like |
| --- | --- |
| Diverse flavors | Only one nicotine concentration |
| Awesome Tobacco taste | |
| Pods are bigger than the competition | |
Verdict: The PHIX is a plug and play method to enjoy salt based nicotine in every moment of the day. Flavors are well defined and the overall experience is one of the best.
BYRD salt nic
With some of the best flavors on the market today, BYRD nicotine salts are definitely worth checking out. They include four delicious mixes that have been carefully designed by Space Jam e-liquids. 60mg nic concentration is also the highest you will find available.
The kit is excellent for beginners and delivers a consistent output. The pods are non refillable but the taste is just amazing.
| What we liked | What we didn't like |
| --- | --- |
| Some of the best flavors out there | Only one nicotine strength |
| Made by Space Jam | |
| High nic salt concentration | |
Verdict: The BYRD nicotine salts pods are available in 60mg concentration and come in four delicious flavors.
Best Nicotine Salts E-liquids
These e-liquids contain nic salts and are intended to be used with pod vaporizers and low output devices. Nicotine strength is pretty high so they are not made for sub ohm tanks, box mods or powerful vape pens. They work great for refilling empty pods and they deliver really good flavor and vapor.
Halo Nicotine Salts
With years of experience in the art of good e-liquid making, it's no surprise that Halo Nicotine Salts are some of the best you can purchase. They are only available in two flavors: tobacco and menthol and two concentrations: 35mg and 50mg.
The VG/PG ratio is 50/50 and this makes them compatible with the wide majority of open pods and low output vaporizers.
| What we liked | What we didn't like |
| --- | --- |
| Amazing flavors | Only two options |
| Smooth vapor | |
| Perfect for refillable pod systems | |
Verdict: Halo Nicotine Salts are among the best products in this category. Delicious flavor, smooth vapor and compatible with a wide range of salts vaporizers.
Solace Salts
Solace is one of the most iconic brand on the salt juice market. Their e-liquids are absolutely delicious and they come in a diverse range of flavors. The VG/PG mix is 50/50 and this means you'll be able to vape it on all types of devices. Available in 30mg and 50mg concentrations.
These e-liquids are ideal for pod systems and low output vaporizers. We don't recommend using them on sub ohm tanks or box mods.
| What we liked | What we didn't like |
| --- | --- |
| Very good flavors | Inconsistent packaging |
| Nice throat hit | |
| Ideal for pod systems | |
Verdict: Solace Salts is one of the most reputable brands in the industry and their juices are absolutely fabulous. Get ready to enjoy the smoothest vapor paired with a consistent throat hit every single time.
Mr. Salt E
Mr. Salt E nicotine salts is one of the first brands to ever sell these types of e-liquids. Their flavors have always been off the charts and looks like they added a lot of brand new mixes to their collection.
VG/PG ratio is 60/40 so make sure you only use it with devices that wick easily. There are two available strengths: 25mg and 45mg.
| What we liked | What we didn't like |
| --- | --- |
| Impressive flavor | VG/PG mix is a bit thick for chain vaping on some pod systems |
| Good vapor production | |
| Excellent for low output vapes | |
Verdict: Mr. Salt E is one of the first manufacturers on the market. The good thing is that they remained consistent in terms of quality and flavor. Definitely give them a try.
eVo Nicotine Salts
Crafted by Halo, eVo Nicotine Salts is a line of fruity flavors that will make you come back for more. These juices are really intense, sweet, tangy with a smooth aftertaste. There are four flavors to choose from and two strengths: 35mg and 50mg. The VG/PG ratio is 50/50.
Unfortunately there's no tobacco option, and that makes it hard to recommend to beginners.
| What we liked | What we didn't like |
| --- | --- |
| Good array of flavors | No tobacco option |
| Made by Halo | |
| Super smooth vapor | |
Verdict: For a faster and more reliable nicotine delivery method, eVo salts juices are great for all categories of vapers. The line encompasses four delicious flavors and the VG/PG ratio is 50/50.
I Love Salts E Liquid
When it comes to flavors, I Love Salts E Liquid is really hard to beat. This brand has eight different juices in its portfolio and all of them are utterly delicious. Concentration is 25mg or 50mg and the VG/PG mix 50/50. They are manufactured by award winning e-juice company Mad Hatter E Juice.
These are some of the best juices for any type of refillable pod vape.
| What we liked | What we didn't like |
| --- | --- |
| Very good selection of flavors | We would have loved a tobacco for beginners |
| Nice packaging and great bottles | |
| Amazing for refillable pod vapes | |
Verdict: Designed by award winning company Mad Hatter E Juice, I Love Salts E Liquid is bound to be on our list. All of their 8 juices are so delicious and they work in any moment of the day.
SALT E liquid
SALT E liquid is one of the pioneers of the industry and they carry really delicious flavors. Their Mango is one of our all time favorites. The juices are available in 40mg concentration and the VG/PG ratio is 64/40. Smooth, intense and utterly delicious!
This juices are perfect for low output pod vaporizers since the minimum strength is pretty high.
| What we liked | What we didn't like |
| --- | --- |
| Some of the best nic salts flavors on the market | Only available in 40mg |
| Some of the pioneers of the industry | |
| Smooth vapor and flavor | |
Verdict: If you want to enjoy the best salt vape experience, then SALT E liquid is clearly the way to go. This company is one of the pioneers of the industry and their flavors are absolutely mouthwatering.
Yami Salt
Despite being one of the most recent players on the market, Yami Salt have quickly made a name for themselves. These Japanese inspired e-liquids are delicious and they work great on any device thanks to the 50/50 VG/PG mix used. You can find them in 35mg or 50mg concentrations.
These juices are perfect for refilling empty pods and they wick pretty well on all types of devices. You can also chain vape without issues.
| What we liked | What we didn't like |
| --- | --- |
| Very good flavors | No tobacco flavor |
| They come in chubby gorilla bottles | |
| 50/50 VG/PG mix | |
Verdict: One of the most recent brands to hit the market is also one of our favorites. Yami Salt makes some of the most delicious e-juices we tried and these are compatible with a wide range of devices.
Best Nicotine Salts Disposables
These devices are the cheapest way to enjoy nicotine salts. Whether you just want to give them a try or want to have a back-up for your box mod or vape pen, these products deliver impressive flavor and vapor. They don't require any maintenance and or battery charge.
NKD100 Nic Salts Disposable ecigs
With a total of five different flavors and rated for 300 puffs each, NKD100 Nicotine Salts Disposables are your best way to sample nic salts when on a budget. Very affordable, consistent and fun to use these tiny e-cigs make a very strong impression.
American Patriots is one of the top tobacco flavors we tried. You can get them only in 50mg.
| What we liked | What we didn't like |
| --- | --- |
| Good selection | Flavors are not that strong |
| Good battery life | |
| Good overall performance | |
Verdict: If you want to give nicotine salts a try and don't have the budget for a starter kit, then NKD100 salts ecigs are the way to go. These tiny disposables are rated for 300 puffs each and concentration is 50mg.
Stig Disposable Salt Pods
Stig Disposable Salt Pods are the first devices of this type to hit the market and they are massively growing in popularity. Activated on draw and with generous 1.2ml tank capacities, these disposables are available in packs of three. Concentration is 60mg, which is the highest you'll ever find.
You can only get these pods in packs of three but they are pretty inexpensive when compared to the competition.
| What we liked | What we didn't like |
| --- | --- |
| Nice flavors | Draw sensor is not always that accurate |
| Good battery life | |
| Inexpensive | |
Verdict: Stig Disposable Salt Pods are a fast and easy way to enjoy nicotine without investing in an actual starter kit. The flavors are very good, throat hit is well defined and the overall quality is a big thumbs up!
The Best Nicotine Salts 2020
JUUL – Best salt nic pods
BYRD – Best nicotine salts flavor cartriges
Halo – Best salt based e juice
Solace Salts – Smoothest vapor for nic salts
Mr. Salt E – Best nicotine salts for throat hit
I Love Salts E Liquid – Best nicotine salts flavors
NKD100 – Best nic salt disposable ecig
Stig Disposables – Highest nicotine salts concentration
Since taste is very subjective, top lists like these are pretty difficult to make. Keep in mind that your personal experience may be different than ours. We tried to be as objective as possible, but in the end it's all down to personal preference and budget.
Nic salts pods and disposables are best suited for beginners looking for quick results. The e-liquids section is addressed to users who know how to fill up their own devices. Keep in mind that some nicotine salts vaporizers are not meant to be refilled like vape pens.
We recommend checking the full specs and some additional reviews before making a purchase. Contact us if you need more help or have trouble deciding between two products.
*Note: We update this list on a regular basis. The prices mentioned are the lowest at the moment. If by any chance you find these vapes somewhere for less please contact us and we will make sure you will always get the lowest rates.
What are nicotine salts e-liquids and how to use them
You are probably familiar with nicotine. It's a powerful stimulant found in tobacco and it's what delivers that high we're all craving for. Until recently, "freebase" nicotine was the only type of nicotine used in vaping but now things are stating to change.
High nicotine concentrations with mild throat hit?
The PHIX vape is probably one of the most popular pod devices for beginners out there. It's engineered in a way that it delivers an experience remarkably similar to that of smoking and it's why people love it. But one look at the technical specs and you will soon realize its pods are packed with 5% nic e-juice.
5% Nicotine translates into 59mg, way higher than the average 3 - 6mg we're used to inhaling on our sub ohm tanks and mods. Not even in under powered mouth to lung devices you can't go higher than 18 - 20mg without a super harsh throat irritation. So what's the deal with 59mg and how do they do it with such a nice throat hit?
What are Nicotine salts e-liquids and how do they work?
Nicotine salt is the form in which the substance is found in all tobacco leaves. It's not pure like freebase nicotine, because it's usually mixed together with other organic compounds. And while the tobacco industry has invested a lot in creating the purest nic it turns out this more non reactive version has its advantages.
Due to its chemical structure, nicotine salt provides vapers with better nicotine blood absorption and it comes with a super mild throat hit when inhaled. This means you will feel more satisfied after a single puff and it will ensure a lower consumption of e-liquid overall.
It's the perfect way to get that highly craved buzz from any discreet vape pen or pod device.
Don't think about these liquids as if will be able to see the tiny crystals inside the bottle. They look exactly like any other e-juice on the market, but they come in much higher concentrations. Between 25 - 45mg to be more specific, but as they are becoming more popular we can expect an increase in diversity in the near future.
The Pros of nicotine salts
Due to their high concentration, they deliver more nicotine in one draw. This means you'll spend less time vaping , and more time doing the things you love. You will also save on e-liquid since the daily average of nic salts use is of around 1ml.
You get less irritation even at very high nicotine concentrations. The throat hit feels smooth yet well defined and this contributes to overall satisfaction.
Since these vapes are so efficient, you don't need a bulky mod or pen to get your buzz. Salts pods and low output devices are very small and you can easily carry them inside your pocket. They also recharge in under an hour and this makes them super convenient. portable JUUL chargers are very popular these days and for good reason.
You can now enjoy the same delicious flavors as with freebase nicotine. Many high profile brands have released nicotine salts e juices that are very similar to their bestsellers. If in the past salt pods meant only a handful of flavors, nowadays the vaping market has dramatically changed for the better.
Nicotine salts e-liquids are not for everyone
If you're used to vaping on a high powered vape mod with an RDA or sub ohm tank, you should stay away for nic salts ejuices. The massive amount of vapor produced by these devices will most likely give the user a nicotine overdose and that's not something pleasant.
These salts e-liquids are intended to be used with pod systems or low output vaporizers. Such small devices are finely tuned for the high concentrations and they are usually associated with mouth to lung draws.
How to use nic salts
There are two ways you can enjoy nicotine salts: with pre-filled pods or with open pod systems and low output all-in-ones.
Pod systems are the easiest to use and it's what we normally recommend for beginners. You simply slide in a pod and it's ready to vape. This way you can easily switch between pods, with vapor production and flavor always being consistent.
Reusable salt pods or all in one low output vaporizers require constant e-liquid refills. These devices also need new pods and coils as soon as the old ones stop functioning properly. They are a lot cheaper on the long run but require some basic skills.
We recommend such products to intermediate users who have some experience with vaping, refilling and coils.
Salt nic e juices are often vaped in mouth to lung mode. This is because the nicotine concentration is pretty high for direct lung inhales and sub ohm mods. Many nic salts vaporizers have a maximum output of 15W and a very tight draw.
They also activate automatically each time you take a pull and they deliver the same great consistency all throughout the vape.
Are nicotine salts safe?
Salt nicotine e liquids are part of a very new trend. That's why vapers struggle to know if these substances are dangerous in comparison to freebase nicotine. And to be frank, the truth is somewhere in the middle.
We simply cannot tell if benzoic acid the other substances or production processes will have a negative effect on our bodies on the long term. We haven't heard of anyone getting sick from nic salts, however this doesn't make them 100% safe.
Future studies will probably give us more in depth conclusions about the health effects of these substances.
On the other hand, salt nic juices are probably more addictive than freebase e-liquids. This is because of the much higher nicotine concentration and that it enters the blood-brain barrier quicker.
At the same time, salt nicotine is vaped on higher resistances and at lower wattages than regular ejuices. This definitely lowers the risk of wicking combustion and prevents the development of potentially hazardous substances.
And since users achieve satisfaction a lot faster, they don't need to inhale the same amount of vapor as from a sub ohm tank and mod.
.