Best eGo Vape Pens of 2020 - Best vape pens ego style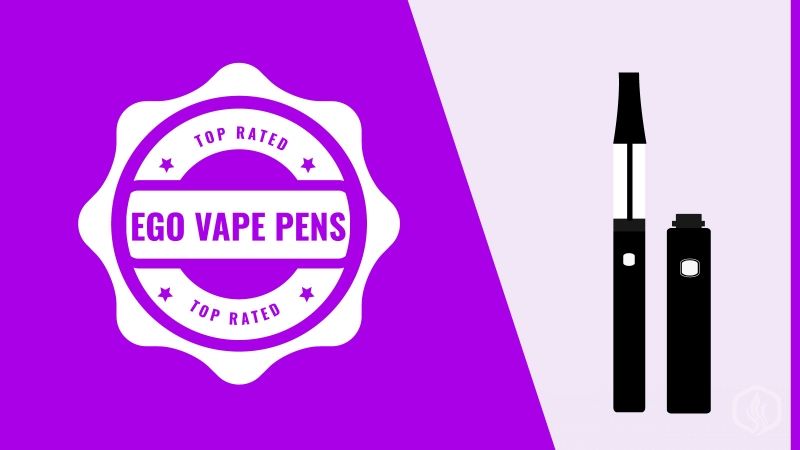 The eGo Vape Pen is a superior personal vaporizer in terms of vapor production and battery life when compared to regular cig-a-like models. Pen vape devices consist of an eGo battery and a clearomizer and they work with e-liquid instead of using flavor cartomizers.
Depending on the manufacturing company or model, these vape pen batteries are rated between 650 – 2200mAh, and some of them even have the option of adjusting the voltage from 3.3V to 4.8V
Even today there are some eGo vape pen models which are popular among e-cigarette users. Easy to carry around and easy to use, these devices deliver good vapor and pretty nice flavor. Of course you cannot use these with high VG e-liquids, and we recommend going for either 50/50 or 60/50 concentrations.
They are intended for mouth to lung vaping and a typical battery is enough for a full day of vaping.
Note: We use affiliate links to the products we feature. We may receive a small commission whenever you make a purchase using one of these links. However, this will never influence our opinions and ratings we give to these devices. We will always be unbiased and honest when it comes to our recommendations.
Best Ego Vapes available
Since most big vape brands don't sell these eGo style vape pens anymore, we made a list with the best pens still available today. Some of these are predecessors of the eGo style pen. We believe that this selection is the right one. If by any chance you have recommendations please let us know.
Apollo Evolve kit
The Apollo Evolve kit is the ideal ego vape for nicotine salts. This device also works perfectly with 50/50 PG e-liquids and packs a strong punch for such a tiny ecig. The coils have been completely redesigned for 2018 and they are easy to replace.
Battery life is not that great, but it gets the job done. You can fully recharge the unit in under 30 minutes. It's the perfect on the go companion for people who need their nicotine fix.
| What we liked | What we didn't like |
| --- | --- |
| Works with nicotine salts | Battery life is not that great |
| Fun and easy to use | Low e-liquid capacity |
| Ultra portable | |
Verdict: The Apollo Evolve kit was designed to deliver a quick nicotine fix and it does its job flawlessly. It's compatible with nic salts and 50/50 freebase juices and it's perfect for on the go use.
Dr. Dabber Ghost
Did you know you can also get an eGo vape pen to use with concentrates? The Dr. Dabber Ghost concentrates vaporizer is an ultra portable device that comes in the color black only. It features titanium coil technology with glass fiber wick. This accounts for a rich and pure flavor.
The battery can reach a maximum temperature of 353° F. It features direct draw delivery method. Battery life is pretty good for a device this small and vapor production is really impressive.
| What we liked | What we didn't like |
| --- | --- |
| Great for oils and concentrates | Only one color |
| High quality pen | Battery life is average |
| Perfect temperature setting | |
Verdict: The Dr. Dabber Ghost is your on the go vape tool for concentrates and oils. It's easy to use, delivers great flavor and vapor and it's ultra portable.
Smoketip SmokeTank
When it comes to vapor production you won't find any eGo vape pen to surpass the Smoketip SmokeTank kit. This bad boy comes in a beautiful presentation box and includes everything you might need for a great vaping experience. It comes with two batteries, two coils, a tank style atomizer, USB charger, wall adapter and a 12ml bottle of e-juice.
The tank has adjustable airflow and replaceable coils. It's easy to refill and the amount of vapor you get from it is amazing. Especially when you consider it's being powered up by such a tiny eGo battery. Also there are nine flavors to choose from for the e-liquid bottle and five nicotine concentrations.
Color Range: Black, White
| What we liked | What we didn't like |
| --- | --- |
| Free bottle of e-liquid included | Battery life could be better |
| Great presentation | |
| Outstanding performance | |
Verdict: The Smoketip SmokeTank kit comes in a very neat presentation box and it's packed with performance. One of our favorite mid-range ego style pen vaporizers on the market right now.
The Apollo Endeavor Starter kit
The Apollo Endeavor starter kit is one of our personal favorites. You can get it in a multitude of colors and it comes with two batteries. Each battery is rated for 900mAh and it packs a pretty strong punch. You also get two EVOD style clearomizers with dual coil atomizer heads. These heads are replaceable and overall cost runs pretty low.
The kit also comes with a USB charger, a wall adapter and even a car charger. And since you have two batteries, you can always recharge one while using the other. This way you will never run out of power. The Endeavor is prefect for beginners and it's a great way to enjoy tobacco, menthol and fruity flavors.
Color Range: Black, Blue, Green, Pink, Red, White, Yellow
| What we liked | What we didn't like |
| --- | --- |
| 900mAh battery | Not suitable for all types of e-liquid |
| Dual coil performance | Throat hit is a bit muted |
| Two batteries included | |
Verdict: With the Apollo Endeavor starter kit you receive performance at a very affordable price. This ego battery is ideal for beginners and the dual coil tanks deliver great vapor and flavor.
Halo Triton Starter kit
Halo Triton starter kit is another ego style vape pen we absolutely love. It is available in in seven different colors and you also get a free 30ml bottle of e-liquid. Each kit comes with two 650mAg batteries, two clearomizers, USB charger and a protective cone. The clearomizers hold up to 2.4ml of e-liquid and coils are replaceable.
When buying spare atomizer heads you an choose the resistance and they come in packs of 5. Monthly cost for such a device is pretty low and the e-liquids from Halo are some of the best out there. We recommend Tribeca and Turkish Tobacco for that incredible cigarette-like experience.
Color Range: Black, Blue, Green, Pink, Purple, Red, Titanium
| What we liked | What we didn't like |
| --- | --- |
| Great performance | Battery life is not that great |
| 650mAh batteries | Work best with 50/50 PG eliquids |
| Two batteries included | |
Verdict: The Halo Triton Starter kit is one of the most popular ego style devices. It comes with two batteries and it's easy to use and to carry around.
VaporFi Express E-cig
With the VaporFi Express E Cigarette Starter Kit bundle you get so much for so little. There are two batteries - one standard and one high capacity, 3 clearomizers, USB charger, wall adapter and a free 30ml bottle of e-liquid. You can fully customize everything about the e-liquid, from VG/PG ratio, nicotine concentration and number of flavors to mix.
The standard battery is rated for 180mAh while the high capacity version has 280mAh. They are both super light and feel as natural as a regular cigarette. The small clearomizers hold up to 0.9ml of juice and they can last anywhere between 1 - 3 weeks.
| What we liked | What we didn't like |
| --- | --- |
| Free bottle of e-liquid included | Battery life is sub par |
| 0.9ml ejuice capacity | Works better with high PG e-liquids |
| Two batteries included | |
Verdict: The VaporFi Express E Cigarette Starter Kit is excellent for beginners and especially for women vapers. It's easy to refill, easy to use and the clearomizers last for up to 3 weeks.
Learn more about ego vape ecigs
Why choose an eGo Vape Pen over another e-cig?
Ego Vape Pen kits are versatile, ultra portable and easy to use. Not to forget it's relatively cheap price tag. This still makes this simple pen one of the rulers in vaping worldwide.
Most ego Vape pens are sold as a kit. This means that you get everything you need to start vaping inside the box. Included in an ego vape pen kit you are most likely going to find a battery, a clearomizer, a USB charging cable, wall adapter and user's manual.
The new generation clearomizers usually work with replaceable atomizer heads and in some kits you are also going to find spare resistances.
Ego starter kits are a great option for any beginner trying to make the switch from cig-a-likes because they offer plenty of power and a reasonable autonomy. Some of these devices can even operate with sub-ohm atomizer resistances, making the whole experience even more incredible.
They come packed with everything needed except for a bottle of e-liquids which needs to be purchased separately. They are easy to use and recharge and are very durable.
Please take into account that not all eGo batteries and clearomizers are equal and choosing the right product to suit your needs can be tricky at times. If for some reason you have trouble deciding between a few particular products let us know and we will gladly help you pick the perfect ego vape starter kit according to your personal preferences.
Final words & conclusion
We hope to have informed you well about the best options when buying an ego style device. For everyone that ever tried tried vaping a cig-a-like you can expect more. The ones that tried vape mods with special tanks (probably also the ones that coughed their lungs out), and liked it.... than this is not for you.
Tip: If you are interested in big clouds and sub ohm vaping we strongly recommend you to check out our best box mod devices. These vapes have slightly more options and are usually more powerful.