Best Tanks & Atomizers 2020 - rebuildables, cleartomizers & RTAs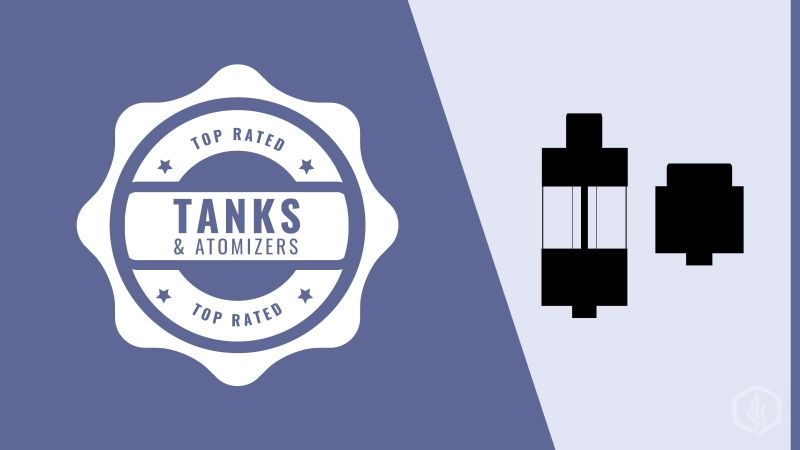 Ecigguide welcomes you to our best sub ohm tanks 2020 list.
Our team of reviewers has featured only the top performing cloud chasing accessories on the market. The rankings are based on their vapor production, flavor, throat hit and overall build quality. Whether you're looking for a rebuildable atty for your mechanical or a sub ohm tank for your vape mod, all the products listed here have passed our rigorous tests.
Disclosure: The tanks and rebuildable atomizers featured on this page were tested by our trained team of reviewers. We use affiliate links to these products as part of the review. This means that we receive a small commission whenever you make a purchase using one of our links. However, this will never influence our opinions and ratings we give to these devices. It also doesn't affect the price you pay for any particular vape. The commissions we earn are used to keep the site up and running. This way we will always be unbiased and honest when it comes to our recommendations.
Ecigguide.com is not intended to be accessed or used by individuals under eighteen years of age. If you are under eighteen (18) years of age please leave this website immediately. We also do not provide medical advice, and all the content is for general information purposes only.
Best Tanks & Atomizers
Paying the biggest price doesn't always get you the best performance and that's why it's important to choose an atomizer intended to suit your personal needs. Sub ohm tanks and rebuild-able dripping atomizers are usually designed for big clouds and flavor.
Regular tanks for vaping and mid-range RTA's are intended for moderate wattage's. These sometimes come with two types of coils and are suited for both direct lung and mouth to lung vaping styles. Mouth to lung only tanks are intended for beginners as well as for all those who enjoy the cigarette-type draw.
We tested these atomizers and tanks on a variety of mods and with a variety of e-liquids. Some of them work great with high VG, others not so much. Some are best for flavor while others chuck out clouds like fog machines. That's why we divided them into multiple categories and ranked them accordingly.
Best tanks for SUB OHM vaping
These are our top picks for best sub ohm tank. All these vapes are built for clouds and flavor and they can handle almost anything you throw at them. Great for high VG juices and for cranking up the wattage over 80W.
SMOK TFV12 Prince Cobra
SMOK knows how to make a good sub ohm tank and the TFV12 Prince Cobra is no exception. This may seem like an iteration of an older model, however the coils are band new. The strip style atomizers deliver amazing flavor and vapor and they cope so well with high VG e-liquids.
The cobra mesh cage inside the tank give it a very aggressive appearance and the range of colors is more than diverse. Airflow is fully adjustable and the top fill mechanism accounts for easy refills and handling.
It's a great vape tank that doesn't require previous experience and delivers clouds for days.
| What we liked | What we didn't like |
| --- | --- |
| Strip coils are great | Not very different from the original TFV12 Prince |
| Good top fill mechanism | The cobra mesh cage has no practical purpose |
| Vapor production and flavor | Mesh coils are not as good as the Strip |
Verdict: The SMOK TFV12 Prince Cobra is one of our favorite 2018 sub ohm tanks. It's built to perfection and the new coils really make difference in terms of vapor and flavor.

Uwell Crown 3 III
The Uwell Crown 3 III is our runner up for best sub ohm tank vape. Following the footsteps of its predecessors this tank is built for performance. The coils are some of the best we tried and the overall experience exceeds all expectations.
It has an innovative anti-leak top fill system and the airflow on this bad boy is super smooth. It lets you crank up the power up to 90W and delivers incredible flavor and clouds.
| What we liked | What we didn't like |
| --- | --- |
| Very good coils | Compatible only with 510 drip tips |
| Excellent top fill system | Coil lifespan could be better |
| On par flavor and vapor | |
Verdict: The Uwell Crown 3 III could win the best vape tank competition anytime, if the company fixes a few minor issues like the inconsistent coils. Other than that it's an incredible cloud chucking machine.
SMOK TFV12 Cloud Beast King
We call it the beast, but you probably know it as the Smok TFV12 Cloud Beast King. It is by far one of the most powerful tanks we ever tested and it's unbeatable when it comes to clouds and flavor.
With a 25mm diameter and a total capacity of 6ml, you can rock this bad boy up to 200W. Works perfectly with high VG e-liquids and it's clearly not something for the fainthearted.
This powerhouse is compatible with seven types of atomizer heads and it's available in nine different colors, including rainbow. Build quality is very good. Top fill works without flaw. Also it's the perfect choice for all those looking fill up a room with vapor in under one minute.
| What we liked | What we didn't like |
| --- | --- |
| Vapor production | Quite big |
| Big e-juice capacity | Doesn't perform well at lower wattages |
| Good for high wattage | Not for beginners |
Verdict: The Smok TFV12 Cloud Beast King one of the best choices when it comes to sub ohm tanks. It's a very powerful, high output sub ohm atomizer with multiple coils and cloud chasing capabilities.

Horizon Tech Arco
One of the first tanks to ever use flax paper inside its coils, the Horizon Tech Arco is also one of the best. This outstanding piece of engineering not only looks good but also performs like a real champion. It comes with two types of coils and it's best used between 70 - 90W.
It's one of the best looking tanks we tries so far and it looks great on top of any mod. The flax paper has a major impact on flavor and it's one of the reasons we love the Arco. Coils last for a very long time and the break-in period is very small.
It's a product you can't go wrong with if you're looking for big clouds.
| What we liked | What we didn't like |
| --- | --- |
| Great vapor | Flax paper break in period |
| Great flavor | Spare glass is not tinted |
| Great looks | |
Verdict:The Horizon Tech Arco is a great tank for any amateur cloud chaser. The flax paper coils have a richer flavor and vapor production is off the charts. Also the glossy finish is definitely going to get you noticed.

Ijoy Exo X
At only 53mm tall the IJOY EXO X hides some pretty impressive coils under its bonnet. It's one of the top performing tanks when it comes to vapor production and yet it's pretty small in size. The coils are engineered to perfection with rich vapor and lip-biting flavor.
Airflow is more than generous and it's a tank best used at 60-70W.
The atomizer is easy to refill, doesn't leak and handles VG e-liquids perfectly. The coils last for a very long time and with a capacity of 4.7ml it's enough for a couple of decent vape hours.
| What we liked | What we didn't like |
| --- | --- |
| Compact size | Goes through a lot of e-liquid fast |
| Great flavor and vapor | It can leak |
| Perfect airflow | |
Verdict: Built for big flavorsome clouds, the iJoy EXO X does not disappoint. This 24.5mm sub ohm tank feels very robust and the coils are really good.

Best SUB OHM Tanks for Beginners
The cheapest sub ohm tanks definitely don't belong here. We personally tested and selected these vapes as the best tanks for beginners. They have a great quality to price ratio and are very easy to use. Not exactly cloud chasing material but they get the job done with no issues.
Smoant Battlestar Sub Ohm Tank
The first product in this category to be released by Smoant is one of our favorite beginners sub ohm tanks. It works pretty well at mid-range outputs and the build quality is on par. The slide to unlock top fill mechanism is simple to use and it comes with adjustable airflow.
Flavor and vapor are pretty good with both types of coils. It's also a very affordable tank that gets the job done without too much stress.
| What we liked | What we didn't like |
| --- | --- |
| Great flavor from the Nichrome coils | Airflow ring comes off |
| Well designed atomizer head | O-rings are not that great |
| Great for beginners | Can't go over 50W |
Verdict: The Smoant Battlestar Tank isn't revolutionary but works great and it's good for beginners. We were impressed with the flavor coming from the Nichrome coils.

Asvape Cobra
Presentation is good but performance is even better. The Asvape Cobra tank is our personal recommendation for beginners looking to sub ohm. Measuring only 42.5mm in height and with a diameter of 24mm this tiny cloud chucker is really amazing.
The coils are perfect for flavor and vapor and build quality is well above the price tag.
It's the perfect tank for a moderate powered mod as you won't need more than 40W to fully unleash its potential. It comes with a spare glass tube and spare O-rings and it's so easy to fill up with e-liquid.
| What we liked | What we didn't like |
| --- | --- |
| Compact size | Hard to see eliquid level when it's dark |
| Easy to use | Average coil lifespan |
| Very good flavor | |
Verdict: Inspired by the famous 1986 movie, the Asvape Cobra tank offers great value at an affordable price. Looks great, vapes great and it's so easy to use. Great for beginners and intermediate users alike.

Best Multi-use Tanks
Multi-use tanks are vapes that come with two different types of coils out of the box. One coil is intended for mouth to lung use while the other transforms it into a great direct lung tank. They are great for making the transition and we often recommend them to beginners and intermediate vapers.
Kanger Protank 4
With an important legacy behind, the Kanger Protank 4 is in our opinion the best tank if you want to try both mouth to lung and direct lung vaping. Besides the stock coils you also get an RBA coil head which you can set up in any way you like.
The 4ml juice capacity is reasonable and since it has 22mm diameter it will fit on virtually any mod.
Unlike the original Protank this newer version has top fill and the airflow has been improved. Flavor ad vapor production are pretty good and it's one of the most versatile tanks we ever tested.
| What we liked | What we didn't like |
| --- | --- |
| Build quality | Non replaceable glass tube |
| Vapor production | RBA base is not that easy to build on |
| Comes with an RBA base | |
Verdict: A really versatile and well-built tank, the Kanger Protank 4 is perfect for intermediate vapers. You can experience both mouth to lung and direct lung inhale styles and vapor and flavor are outstanding. Coil life is also good and the build quality is what Kanger got us used to.
Best Mouth to Lung tanks
Good mouth to lung tanks are not only for beginners. These vapes mimic the draw of an actual cigarette and deliver consistent vapor and flavor. They require higher nicotine concentrations and more potent flavors but the overall experience is totally worth it.
Nautilus 2
When it comes to mouth go good mouth to lunk tanks you cannot beat the Nautilus 2 from Aspire. Stepping on the footsteps of its predecessor, the coils on this bad boy are just phenomenal.
Widely considered some of the best atomizer heads ever designed, both the 1.8 Ohm or the 1.6 Ohm give off fantastic flavor. Vapor production is also pretty good, especially if you try out the new 0.7 Ohm coil.
The 2ml capacity is more than reasonable for a mouth to lung tank and the build quality is flawless. Even the mouthpiece feels incredibly comfortable and really adds to the overall experience. Looks are the only downside to this product, since it mostly has a 'love it or hate it' kind of design.
| What we liked | What we didn't like |
| --- | --- |
| Amazing flavor for a MTL tank | Looks are not its strong point |
| Top notch build quality | |
| Some of the best coils | |
Verdict: The Aspire Nautilus 2 is one of the best tanks out there for mouth to lung vaping. Build quality is fantastic, coils are perfect and the overall experience is amazing.

Innokin Zenith
When it comes to the best MTL tanks, the Innokin Zenith definitely deserves to be on this list. This 4ml tight draw titan delivers impressive flavor and works with two types of coils. It has an adjustable airflow system that features four different holes to match your style.
Both drip tips feel comfortable on the lips and we recommend not going higher than 17W with this one.
| What we liked | What we didn't like |
| --- | --- |
| Airflow adjustment system | Doesn't cope well with high VG e-liquids |
| Tight mtl draw | Vapor is a bit hot with the 0.8 Ohm coil |
| Two types of coils | |
Verdict: The Innokin Zenith is a good bet when it comes to mouth to lung vapes. It offers adjustable draw, has a decent e-liquid reservoir and delivers delicious flavor.
Vapefly Nicolas
Our second favorite tank for mouth to lung vaping is the Vapefly Nicolas. This tiny 3ml flavor machine has some pretty good coils and it's more than affordable. With a diameter of 22mm and a height of 46mm it's compatible with any box mod out there.
And since you'll only be using it between 12 - 23W it doesn't require a lot of power.
There are two types of coils for this tank: the 1.8 Ohm and the 0.6 Ohm. First works best at around 12W and gives cooler vapor and a nice throat hit. Second you can take up to 25W and it offers denser and slightly warmer vapor.
| What we liked | What we didn't like |
| --- | --- |
| Airflow adjustment | Coils don't last as long as on the competitors |
| Tight draw | |
| Two types of coils | |
Verdict: The Vapefly Nicolas is one of our top mouth to lung tanks. It's easy to use, the adjustable airflow has so many options and flavor is more than great.

Leading tanks 2020
Smok TFV12 Prince Cobra - Best sub ohm tank for high VG
Smok TFV12 Cloud beast King - Best sub ohm tank for high wattage
Horizon Tech Arco - Most affordable sub ohm tank for high VG
Asvape Cobra - Best mid range sub ohm tank
Smoant Battlestar tank - Best sub ohm tank for beginners
Kanger Protank 4 - Best mixed tank for LI and MTL
Aspire Nautilus 2 - Best tank for MTL
Vapefly Nicolas - Most affordable tank for mouth to lung
To give you an oversight on the best atomizers and tanks we tested so far we made this small top list. These devices are ranked according to their individual scores from each member of our team.
Atomizers and tanks explained
What is an atomizer?
An atomizer is the part of a personal vaporizer or electronic cigarette where the e-liquid is transformed into vapor. It consists of one or several coils as well surrounded by wicking material to soak up the juice.
The Coil is usually made from Kanthal wire, Stainless Steel or Nickel and the wicking material is organic cotton. There are atomizers which use ceramic heating elements and others which use silica or a metallic mesh as wicks.
What is a vape tank?
A tank is the type of atomizer which has an e-liquid reservoir around the coil. This device works with replaceable stock atomizer heads called coils and it is refillable. Depending on the resistance of the coil it uses we have regular and sub ohm tanks.
Vape tanks are the most popular group of atomizers. These are easy to use, easy to refill and require only a basic set of skills to function properly. They usually have a 510 connector that is compatible with the wide majority of box mods and vape pens.
Most taks are made from stainless steel and Pyrex glass, with O-rings on the top and bottom acting as seals. E-liquid from the reservoir constantly saturates the coil, where it's turned into vapor. Each type of tank is different and will only work with atomizer heads made specifically for that model.
The main types of atomizers
Atomizers fall under two main categories: non-rebuildable and rebuildable. Non rebuildable atomizers, also known as the tank, only work with stock coils. These cannot be re-coiled or re-wicked and have to be discarded once they go bad.
With rebuildable atomizers on the other hand you can build your own coils, re-wick them and enjoy superior flavor and vapor. Rebuildable atomizers fall into three different categories: RDAs, RTAs and RDTAs.
Rebuildable dripping atomizers or RDAs are the most popular type of rebuildable atomizers. These have an open deck design, and a very small e-liquid reservoir under the coils. The reservoir is not sealed so the atty always needs to be kept in vertical position.
It's called a dripping atomizer because the user has to constantly pour e-liquid over the wicking material by removing the top cap or the drip tip.
Rebuildable tank atomizers or RTAs are very similar to tanks, but they work with rebuildable coils. Instead of the replaceable stock coils, these atomizers have a deck on which the user can attach the wire and wicking material. They have the advantage of great flavor as well as an e-liquid reservoir.
These products are way more cost effective thank standard tanks, however they require understanding of the basic coiling, wicking and electricity principals.
Rebuildable dripping tank atomizers or RDTAs are basically a hybrid between RDAs and RTAs and they deliver the same impressive amount of vapor with the added benefit of having a small e-liquid reservoir under the coil.
For beginners
For beginners we usually recommend regular tanks with mouth to lung type of coils. These offer the same type of pull as an ordinary cigarette and it's a good place to start. Some tanks have different types of coils which the user can experiment with.
You can even make the transition from mouth to lung inhales to direct to lung inhales which deliver a lot more vapor.
For intermediate users
For intermediate users we recommend sub ohm tanks. These produce a very good quantity of vapor and the flavor is also very good. Rebuildable tank atomizers are also a great choice, especially for those looking to build their own coils.
You can easily adjust resistance and juice flow to be in full control of the overall vaping experience.
For Advanced users
Advanced users usually know exactly what to look for and many such vapers choose rebuildable atomizers. These atties are built for vapor and flavor and they do not disappoint. They are perfect for any mechanical or state of the art electronic mod.
High performance sub ohm tanks are also suitable for advanced vapers. These tanks can operate at output powers of over 100W and their coils can handle high VG e-liquids without problems.