Best Vape Starter Kits 2020 - Top performing vapes for beginners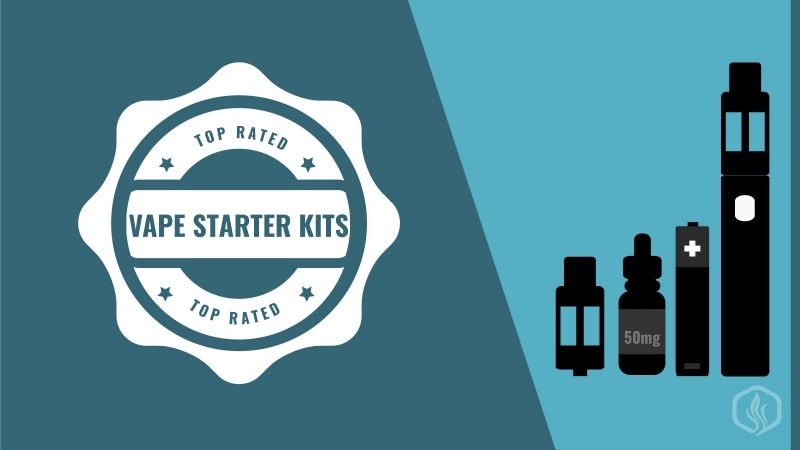 The Best Vape Starter Kits we recommend on this page are ideal for vaping beginners. These devices are called starter kits because they included everything that is needed to enjoy vaping, with some exceptions regarding e-liquid.
Starter kits come in all shapes and sizes but we decided to divide them into four main categories. We featured the most basic vapes and slowly made our way towards the more advanced AIO devices and box mods.
So get ready to start vaping immediately in a simple and intuitive manner with these best in class vape kits.
Disclosure: The vape starter kits featured on this page were tested by our trained team of reviewers. We use affiliate links to these products as part of the review. This means that we receive a small commission whenever you make a purchase using one of our links. However, this will never influence our opinions and ratings we give to these devices. It also doesn't affect the price you pay for any particular vape. The commissions we earn are used to keep the site up and running. This way we will always be unbiased and honest when it comes to our recommendations.
Ecigguide.com is not intended to be accessed or used by individuals under eighteen years of age. If you are under eighteen (18) years of age please leave this website immediately. We also do not provide medical advice, and all the content is for general information purposes only.
Best Vape Starter Kits 2020
From pod starter kits and mods to the most basic e-cigarettes, these vapes have proved their usefulness during our tests and they received dozens of positive reviews.
Most of these vape starter kits come with pre-built safety features and in depth user manuals. They are relatively easy to use and intuitive and most of the time they just require e-liquid refill and coil replacements.
Best Pod Starter Kits
Pod starter kits are easy to use and versatile. They work with nicotine salts as well as the usual freebase juices. Portability, discreetness and high nicotine delivery are their main selling points.
SMOK Infinix
The SMOK Infinix is our number #1 choice for beginners' vape kit. This ultra portable device is easy to refill, activates on draw and delivers one of the best mouth to lung experiences ont he market.
The pods are refillable and they last for a very long time. You can use them with nicotine salts as well as regular e-liquids and they account for great vapor and flavor each time.
| What we liked | What we didn't like |
| --- | --- |
| Size and weight are ideal for beginners | Pods need to be manually refilled |
| Perfect mtl style draw | Battery life is not the best in class |
| Very affordable | |
Verdict: The SMOK Infinix is a very basic starter kit for vapers but it does an amazing job. Flavor and vapor production are off the charts with this one and the draw is very similar to that from a real cigarette.
Suorin Drop
The Suorin drop has easily been one of the most popular starter kits of 2018. This versatile vape with its unique shape is ideal for beginners and gives the best results when paired with nicotine salts.
The device uses a refillable pod, that can also be replaced with a new one when it doesn't perform as intended. It activates on draw whenever you take a puff and the built-in battery is pretty impressive for a device this small.
| What we liked | What we didn't like |
| --- | --- |
| Great flavor and vapor | Pods need to refilled constantly |
| Tight draw | The form factor |
| Great battery life | |
Verdict: The Suorin Drop is an excellent vape starter kit that works best with nicotine salts. The pods give very good flavor and vapor and the draw is one of the best we tried.
Best Cig A Like Kits
Cig a likes were some of the most popular starter kits a few years ago. Now they are not as used, however they still appeal to some categories of vapers. These devices look very similar to traditional cigarettes and they deliver about the same amount of vapor.
South Beach Smoke Deluxe Plus
The South Beach Smoke Deluxe Plus is one of the most advanced cig-a-like kits on the market. It's manufactured by one of the veterans of the vaping industry and it's still appreciated by many enthusiasts.
The flavor cartridges are really good and they mostly appeal to those who enjoy the classical feel of a cigarette.
| What we liked | What we didn't like |
| --- | --- |
| Very similar form factor | Mediocre battery life |
| Ideal mouth to lung draw | Sub-par vapor production |
| Easy to use | |
Verdict: The South Beach Smoke Deluxe Plus is an e-cigarette kit intended for beginners over 40 years old. This device is very easy to use and looks almost the same to an actual cigarette.
Mig 21 Clear Fusion
More expensive than a traditional cig-a-like starter kit, the Mig 21 Clear Fusion is excellent for vaping connoisseurs. It features refillable clearomizers instead of the standard flavor cartidges and comes with a very chic carry pouch.
The batteries seem to last longer then the competition and the flavor is really intense.
| What we liked | What we didn't like |
| --- | --- |
| Refilalble clearomizers | Quite expensive for a cig-a-like |
| Two batteries included | Ego style charger |
| Carry pouch | Doesn't include a free bottle of e-liquid |
Verdict: The Clear Fusion kit from Mig Vapor offers versatility in a very familiar form factor. This device is perfect for beginners and works with e-liquid rather than flavor cartridges.
Best AIO Vape Kits
AIO vape kits are great because the tank is integrated in the body of the vape and cannot be removed. This helps protect the glass and makes the device much easier to use. It's also safer to carry in your pocket and the vapor and flavor are similar to those from regular vape pens.
H20 Splash
The H20 Splash AIO vape from Mig Vapor is a mid-range starter kit with a lot of potential. It comes in a variety of colors and it's very easy to use. The leak proof design and great coils make this device extremely popular among users.
Another great thing about this starter kit is its battery life, which can easily last you a full day.
| What we liked | What we didn't like |
| --- | --- |
| Versatile | Coils can get flooded during refills |
| Easy to use | Coil lifespan is not that great |
| Good battery life | |
Verdict: The Mig Vapor H20 Splash is a great AIO starter kit for beginners who like something versatile and easy to use. It's also one of the cheapest vapes in this category.
VaporFI Vaio GO
The Vaio Go from VaporFI is another great all-in-one starter kit intended for beginners. Powered by a capable 2000mAh internal battery and featuring two types of coils this is the ideal all rounder.
This vape can be used in mouth to lung mode with the 1.5 Ohm coil, as well as in direct lung mode with the more powerful 0.5 Ohm coil.
| What we liked | What we didn't like |
| --- | --- |
| Beautiful colors | Coils can get flooded |
| Two types of coils out of the box | Flavor is not that complex |
| Great battery life | |
Verdict: The VaporFI Vaio GO is a pretty impressive starter kit for mouth to lung and direct lung use. It's powered by a big battery and both coils are fairly good when it comes to vapor and flavor.
Best Box Mod Kits
Box mod kits are the most powerful and feature rich devices on the market. They include a tank and come with a battery so you only need some e-liquid and you're all set for an amazing vape experience.
Eleaf Basal
The Eleaf Basal is not only a very chic starter kit but it's also quite capable. It doesn't have high wattage but it comes with an amazing tank and the flavor you get from it is mind blowing.
It's main characteristics are ease of use and versatility. The device comes with two types of coils and the draw is very similar to that from an actual cigarette. We find it perfect for beginners or intermediate vapers and it includes everything you might think of.
| What we liked | What we didn't like |
| --- | --- |
| Stylish, well built | Bottom fill tank |
| Easy to use | Not that easy to carry around |
| Great battery life | |
Verdict: The Eleaf Basal is our recommendation for box mod starter kit. It comes with a very capable tank and the 30W output is more than enough for a satisfying vape experience.
SMOK MAG Baby
The SMOK MAG Baby is a very small but powerful starter kit. This incredible box mod can reach a maximum output of 50W and it's paired with the mighty Baby Prince sub ohm tank. This ensures stellar performance and impressive clouds and flavor.
We recommend this starter kit to all beginners who tried at least one vape before and like to blow out huge vapor. The coils are intended for direct lung inhales only, so chose wisely.
| What we liked | What we didn't like |
| --- | --- |
| Powerful and feature rich | Direct lung only |
| Great sub ohm tank included | Can be pretty overwhelming for some beginners |
| Great flavor and vapor | |
Verdict: The SMOK MAG Baby vape kit is a real beast when it comes to vapor and flavor. The TV12 Baby Prince sub ohm tank is a real powerhouse and the coils are some of the best we tried.
Lean more about vape starter kits
What's included with every starter kit
A good vape starter kit includes everything that is needed for the user to start vaping straight away. Most cig-a-like kits and some closed system pod vapes come even with pre-filled e-liquid cartridges. AIO kits and box mod kits require the e-liquid to be purchased separately.
The wide majority of these kits include a battery that is usually built in. This needs to be recharged as soon as it drains. Some cig a like vape kits come with two batteries, this way you always have a spare in case one becomes depleted.
If some cig-a-like devices and pod vapes use proprietary chargers, that is not the case with AIO kits or box mods. These use standard micro-USB slot which can be recharged with any cable from your android smartphone.
All starter kits include a battery, an e-liquid reservoir which can be pre-filled or refillable, and a charger.
How to use your starter kit
How you use your vape starter kit mainly depends on its type
In the case of a cig-a-like starter kit you simply need to mount a flavor cartridge on the battery and you're ready to vape. This device activate on inhale and doesn't come with buttons.
Pod systems with pre-filled cartridges are similar to e-cigarettes. You just need to slide in the pod and it's ready to vape. In the case of refillable pod systems the user needs to first fill the cartridge with e-liquid, let it soak for 10 minutes and the mount it inside the device.
AIO kits and box mod kit come with tanks. These tanks need their coils to be primed with e-liquid before filling up the reservoirs. After that they should rest for up to 10 minutes and only then start to take puffs while keeping the fire button pressed.